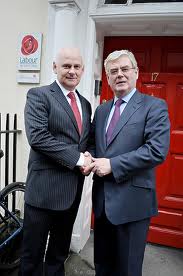 LABOUR PARTY Donegal NW candidate Jimmy Harte tonight branded the government 'a national disgrace' amid another day of crisis for the country as Brian Cowen quit as Fianna Fail leader – but STAYED as Taoiseach.
"The Irish people do not want this government to remain in office for another single day," said an angry Mr Harte.
"I was canvassing today in Glencar Letterkenny and the mood of the residents is that this government has embarrassed the country and conducted themselves in a most digraceful fashion."
Mr Harte said people do not greatly care who leads Fianna Fail.
"They want a new government with a fresh mandate and the commitment and ability to get our country working and to get our people back to work," he claimed.
"Today's announcement by Brian Cowen that he is standing down as Leader of Fianna Fail now means that a general election simply cannot be deferred any longer.
"It is simply not tenable for Mr. Cowen to remain on as Taoiseach as his colleagues in Fianna Fail squabble over the remnants of their party. Less than a week ago Mr. Cowen said that such a scenario would not be credible."
The Labour man added: "The issue is not simply about Mr. Cowen, but about the collective performance of this government and the need for a new start.
"All of those who have been spoken of as possible contenders to replace Mr. Cowen share with him responsibility for the disastrous state in which they have left the country. The all backed and voted for the disastrous bank bailout in September 2008."
"Those who vote confidence in this disastrous and discredited government will have to justify that position to voters when they go knocking on doors in the coming weeks.
"The people of Donegal deserve that the next government bring respect into politics and I know that Eamon Gilmore can deliver that honesty and respectability we need at this time."