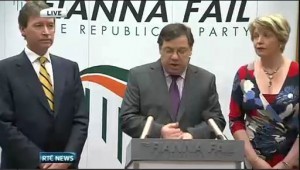 TANAISTE MARY Coughlan finally cracked under the pressure of Brian Cowen's resignation, it was revealed today.
Journalists watched as the Fianna Fail deputy leader swore just minutes after the Taoiseach's press conference yesterday.
Ronald Quinlan of the Sunday Independent witnessed the outburst after Mr Cowen's amazing press conference at the Merrion Hotel in Dublin.
Writing in the paper today, he tells of how Mr Cowen had jumped into his Government Mercedes within minutes of the end of the press conference.
"Tanaiste Mary Coughlan seemed not to have been given the full detail of the escape plan," said the journalist.
"Standing at the kerbside on Upper Merrion Street as ordinary members of the public took pictures of her on their mobile phones, Ms Coughlan complained: 'Where the f*** is my car?'
"Standing next to our deputy prime minister the Sunday Independent's reporter bit his lip and resisted the temptation to point out in pantomime fashion: 'It's behind you!'"
Ms Coughlan did eventually find her car.