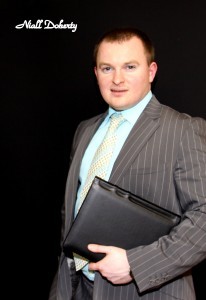 A DONEGAL tax consultant has urged some investors in Etic Solutions to take expert advice and come clean with the Revenue if they haven't already.
Letterkenny-based Niall Doherty was commenting after the latest revelations regarding the Ballybofey company and its boss Francois de Dietrich.
Mr Doherty expressed genuine concern in relation to the tax, financial and health implications for investors in the scheme, and he was eager to voice sympathy with those who may have invested relatively large amounts of money in good faith. 
However he has urged anyone involved who may feel that they have tax exposures as a result of either placing untaxed money in the scheme, or as a result of having taken the proceeds from the scheme and failed to tax them, to seek expert professional tax advice from a Registered Tax Consultant as a matter of urgency.
 
He told us: "I have been following this story on donegaldaily.com since the website broke the story.
"I am sure most people have declared monies to the Revenue but sadly we have seen people in similar positions neglecting to face reality and when they are subsequently Revenue Audited – which is inevitable in a scheme of this magnitude and profile.
"Not only will the Revenue authorities seek to have the original tax charge collected, but they will also seek to impose punitive interest rates for late payment of taxes, and they may also seek to impose a penalty which could be as high as 100% of the tax due.
 
"We have seen in the past that tax liabilities of as low as €10,000, if left unpaid, could rocket to €80,000 or €90,000 once interest and penalties have been levied.
"Naturally, this is a stressful time for the investors involved, but the Revenue have always treated taxpayers more leniently when tax irregularities are volunteered in a timely fashion. We would urge all taxpayers to please take this on board – we cannot stress this highly enough.
"Living with the stress, anxiety and pressure of hidden irregularities can be severally detrimental to the health of those involved, and no one wants to see anyone suffering in this way.
"Sadly we have seen this all too often in recent times, and people can suffer real anxiety and depression as a result. We do not want to see this happening to anyone."
Mr Doherty has urged anyone who may feel they have tax exposures or tax irregularities to contact him directly and he has confirmed that he will deal with all contacts in complete confidence.
 
All Niall's contact details are available on www.nialldohertytaxconsultants.ie