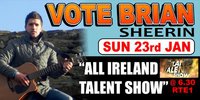 BURT SINGER Brian Sheerin put in a superb performance on the All Ireland Talent Show tonight – coming second in the judge's vote and winning the public vote to get through to the semi-final.
The GAA player sang a moving rendition of 'Caledonia' representing Dana and the North in tonight's show.
Daithi O'Se said the performance was 'fantastic'.
"I really liked it because I could hear a great Donegal accent," he said.
Other judges also gave him the 'thumbs up'.
Even presenter Grainne Seoige described Brian as 'good looking' leaidng to huge cheers from his supporters.
Amanda voted: 10
John: 7
Daithi: 9
Blainaid 8
A total of 34 for Brian.
Said Dana afterwards: "He's a star. He's going to be a star. I want people in Donegal all the North and all over the country."
Brian's porud parents were in the audience as well as his family and dozens of supporters who made the journey to Dublin.
Follow Brian on donegaldaily.com and on Facebook at:
http://www.facebook.com/pages/Brian-Sheerin-all-irelands-got-talent-live-show/176213355732126