The spat between Labour Colr Frank McBrearty and Independent Colr Thomas Pringle has erupted again after the Killybegs man insisted he WAS approached by Labour to stand in the forthcoming election.
Colr Pringle has said he is adamant Labour approached him and had claimed they were disappointed by McBrearty's performance in the last election.
"They admitted they were disappointed. Obviously they felt he wasn't the man if they approached me.
"They weren't 100% happy with the vote and were looking for a different option and they said I was a betetr man," revealed Colr Pringle.   
However Frank McBrearty has claimed there is a witch-hunt against him in certain parts of the media in Donegal.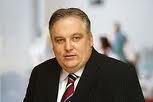 But the Raphoe-based politician claims it was actually Colr Pringle's supporters who sounded out the Labour Party on a move.
"They did not offer him a Seanate seat. Nobody in the Labour party has been offered a Senate seat.
"I have spoken to Thomas Pringle. If he wants to discredit me, then that's his business. But I know that Labour did not approach Thomas Pringle.
"People like Pat Rabbitte, Brendan Howlin and even Eamon Gilmore have assured me that it's not true," he fumed.
Colr McBrearty said he is confident of getting a seat in the coming election in Donegal South West despite a poor standing in the recent by-election.
"I got 10.4% of the vote the last time and that was without my home constituency of Raphoe and St.Johnston.
"That will change during the next election and I am confident I will have enough votes. Also another 20% of people will come out in the election.
"I don't know if I will be elected but I'm only a year and a half in politics and it took Pearse Doherty five elections to get elected.
"I know the support is there and I will continue to battle for the people of Donegal," he said.
Ends