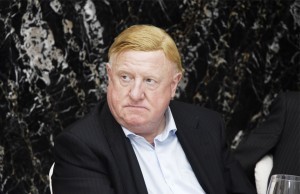 A property investment firm owned by veteran Donegal hotelier Jim McGettigan, is in crisis talks with AIB about its €78 million borrowings after a repayment deadline expired, it has emerged.
Loans to the Bonnington Group were due to be renewed or repaid by six weeks ago, but the date passed without a renewal being agreed.
Mr McGettigan's group warned that it would ''cease to be a going concern'' if it could not renew its banking facilities with AIB or find a new source of funding.
The directors of Bonnington, which has hotels and other properties in Ireland, Britain and Dubai, said they ''expect that a formal renewal of the facility will be agreed'' with AIB.
The bank holds a legal charge over the group's properties and the assets of four group companies, as well as an ''unlimited cross company guarantee'' to several other firms.
Bonnington's interests include the Regency and North Star hotels in Dublin ,the Royal Hotel in Bray, the Hotel Cavendish and Bonnington Rooms in London, and Bonnington Jumeirah Lakes Towers in Dubai.
Mr McGettigan, 73, is also developing a 300-bed four-star hotel and business park at Gillette Corner in west London.
According to new accounts, Bonnington had turnover of 2.4 million in the nine months to the end of 2009, and made a loss of 3 million.
The company said the losses were due to loan impairments, exchange rate fluctuations, interest costs on the Gillette Corner development and losses ''following an abortive project in Glasgow''.
However, the accounts do not include the results from the group's interests in Dubai, which include land at Jumeirah Village. It was intended for a large commercial and residential scheme, but Bonnington pulled back from the project in 2008 and put the site on the market. It is considering plans for the land ''with a view to generating operating profits''.
Self-made millionaire Mr McGettigan started off as a waiter and his highly respected in the county of his birth.
In the 2007 Sunday Times rich list he was estimated to be worth €360M.