DOZENS of new-born babies across Co Donegal do not technically exist – because they are not being registered at birth!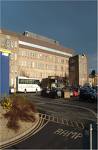 Tots born since January 1st at Letterkenny General Hospital cannot get a birth certificate because the person who processed the information has retired… and has not been replaced.
The vital information is not being sent from the maternity ward to the Registrar's Office which has left new-born babies without an identity.
The bizarre situation came to light when a grandfather tried to get a birth certificate for his daughter's baby which was born on January 7th last.
However the man was told he couldn't get a birth certificate as no information has been processed since the beginning of the year.
The man, whose daughter is a single parent, said "The hospital staff are fantastic but it is quite important because you can't do anything with social welfare until you have a birth cert."
A spokesperson for the HSE admitted a large number of people had taken early retirement from Letterkenny general Hospital which has left them in the current dilemma.
"With regard to registration of births, all information on births at Letterkenny General Hospital is forwarded to the registrar's office.
"In order to register a birth all parents must attend the births deaths and marriages office in person to formally register the birth. A birth certificate is obtained from the registrar's office not the hospital," he said.
Hospital union spokesman Ritchy Carrothers said they have been trying to sort out the matter for weeks but the HSE has not come back to the union of the matter.
"The births deaths and marriages post is one of a number which remains to be filled , and it is a situation which is unnecessary and isn't sustainable," he said.
Ends