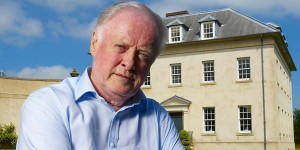 Donegal business guru Sir Gerry Robinson is back on the box urging people to take stock of their lives before they pop their clogs – and pulling in 1.75 million viewers.
The multi-millionaire presents "Can't Take It With You" , a six-part series on BBC2 on Fridays that examines the importance of making a will, emotionally and financially.
The Raphoe-based businessman said: "Writing a will is not really about the process of getting it down in black and white, it's about dealing with emotional issues within families, which is absolutely bloody difficult."
Mr Robinson said it was not the amount of money or valuables being bequeathed but about making sure that what you leave behind feels right for those who are receiving it.
He added: "You can get pretty hurt by the fact that, you know, she got the silver spoons and you only got the glasses.
"The content of a will often comes as a total surprise to the surviving family members, and then there's nobody to go to. If you sort it out when you're still alive, you have the chance to explain."
In the UK 70 per cent of Britons haven't made any provision for what should happen to their assets when they die.
"If you don't leave a will, it's a flaming mess for whoever's left behind," said Robinson.
The programme hopes to be able to help people face the issues surrounding making a will and guide them with sound advice.
Sir Gerry is assisted by top lawyer Sue Medder, who sets out the legal options in various scenarios.
The next show airs on BBC 2 on Friday January 28th.