The lotto numbers for this week were  8,13,14,19   and the match 2 winner wa s Paul McCool. Next week's jackpot is €1,500. Sellers this week are Shay Farrell and John mc Ginley (Rashedog).
The underage presentation will be on in the hall on Friday the 28th at 6.30pm.  Special guest is Jim Mc Guinness.
The club have started up an indoor winter underage program for all underage members which is taking place in the hall at the clubhouse, details are available on facebook on the glenswilly gaa page, or by contacting either Paddy McGinty on 086 0233640 or eddie crawford on 086 8167305. Also if anyone has intentions of doing a coaching course this year could they please contact Barry McDaid or Paddy McGinty.
The 3rd team training will start in the hall at 7.30pm on wednesday 26th January, anyone wishing to play to attend, new players are welcome. 
Good luck 2our club players Cormac Callaghan, Patrick Diver, Ryan Toner & Ryan Mc Laughlin who play for the College on Tue in the U14 & half Ulster Colleges Corn na nOg 1/4 final for the 1st time in the History of the College under the guidance of their coach Gary McDaid. They go into the game as underdogs to play last years U13+half Ulster Champions St Pat's Cavan @1pm in the Omagh area, venue 2b confirmed.
The 2010 yearbook can be bought in any of the local shops or from Barry McDaid.
The  AGM will be reconvened on the 7th February at 7.45. The February monthly meeting will be at 8pm afterwards.
There will be a 25 Card Drive on in the clubhouse on 11th February @7.30pm. Tickets are available from Hughie Canning on 087 6224999, all are welcome.
If anyone is interested in managing or helping with a U12 or U14 girls team could they please contact a committee member.
 The Glendowan School are having their play Mary Poppins in the hall on Saturday night.
 There is going to be dancing organised for Monday nights at 8.15pm to 10pm. It is an enjoyable exercise and something different so all people are welcome members or not, price is €5 per night.
U16 and U18 training is on this Sunday at 10.30 sharp at the pitch.
Anyone who is interested in attending the Ulster Council Coaching & Games Development Conference in Cookstown on January 29th, could they please contact Paddy McGinty (0879210846) or Barry Molloy (0871265550) by Friday 7th with their name as places are limited.
The clean up of the club grounds has been re organised for this saturday the 29th January @ 1pm, all help greatly appreciated. 
Pictured are the Ulster Final Scor winners who won the novelty section in Silverbridge on Saturday night, congrats to all involved.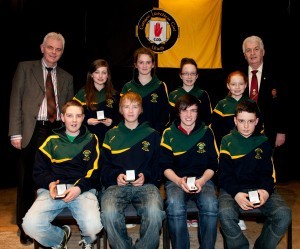 The final of scor na nOg will be held on Saturday Feb. 19 in Castlebar. The team is staying at the Lynch Breaffy House Hotel just outside the town and rates there are very good at the moment- €110 for a family room for 2 nights depending on the site. Offers on for family rooms,B&B and one meal €180 for 2 days. Tickets for final need to be booked this week.
Back: Annie McBride, Shannagh Kelly, Sarah Gallagher, Ciara McDaid,
Front: Oisín Farrell, Ciaran Farrell, Patrick Quinn, Daniel McDaid
Ends