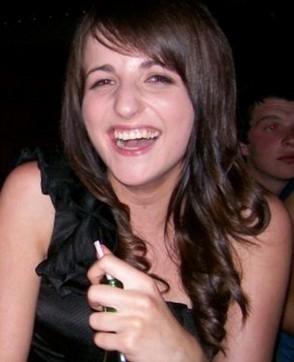 HER DEATH seemed to unite everyone in the country, north and south, and there was a huge outpouring of grief at the death of Michaela McAreavey, daughter of Tyrone GAA manager Mickey Harte, not least here in Donegal
But a newspaper photographer, pictured right, has caused uproar for posting vile messages on Facebook about tragic Michaela McAreavey.
Susanne Morrison — who takes pictures for the County Down Outlook weekly paper — ranted that she was "sick of hearing" about Michaela's murder because she could not see "what makes her so special".
Susanne also made other sickening remarks which we are not repeating, an investigation by the newspaper Sunday Life uncovered.
Bizarrely, she added that Michaela's honeymoon murder was a case of "karma" and that "what goes around comes around".
Rathfriland girl Susanne, a Rangers and Linfield fan who has 613 Facebook 'friends', posted on her wall: "Susanne Morrison is sick hearing about Makeala [sic] Hartes death!
"Thousands of people die terrible deaths every day through diseases and whatever so what makes her so special.
"Soldiers don't get as much coverage as she has and they are risking their lives to protect us! Its about time this country got its priorities right!!!"
Within minutes five people had posted comments.
One gave her the sensible advice: "If you don't want to hear about it, don't watch it. And stop complaining about it."
Another wrote: "At least spell her name right."
But Susanne sneered: "o well haha god nos wat way she spells it".
And unmoved by the suggestion that she should shut up, Susanne, 19, added further insult, saying: "What is it they say about what goes around comes around or karma or what ever u wanna call it! or as my mum would say your sins will always find u out hehe."
The Co Down Outlook, where Susanne works part-time, circulates in the area where Michaela's devastated widower John McAreavey plays football for the Down county side and where John and Michaela had bought a new home in Lawrencetown.
Co Down Outlook editor Joanne Ross issued a statement to Sunday Life last week saying that they were horrified by the Facebook comments and the paper was investigating.
Joanne Ross told the paper: "We are totally appalled by the comments made on Facebook.
"The views and opinions expressed are those of the individual author and are not shared or endorsed by the company.
"The County Down Outlook therefore categorically disassociates itself with the comments made and we have acted immediately to investigate this urgent matter, which is currently ongoing."
The Co Down Outlook is part of the Alpha newspaper group — owned by multi-millionaire former Unionist MP, John Taylor, now Lord Kilclooney, and his family.
On her Facebook site Susanne Morrison describes one of her activities as "being Protestant".
She also listed among her jokey interests — "Waking up on July 12th and realising you are God's chosen race" and "Prods don't do mass, but if they did, it would probably be the best mass in the world. It's Northern Ireland not Ireland. I'm proud to be British!"
All the offensive material concerning Michaela's murder was later removed.
Former Rathfriland High School pupil Susanne, who has an HND qualification in photography from the Southern Regional College, says on her Facebook that her favourite football teams include Linfield and Rangers – and that she likes "cuddling, hugging, chocolate chip cookies, smiling and photography".
Susanne has also written on her homepage: "2011 is gonna be a good year — I have so much planned!!"