Financial adviser John McColgan has seen more than most the way Ireland has crashed spectacularly in the past couple of years. The Buncrana man, who now calls Letterkenny home, is still upbeat that we can get back on track.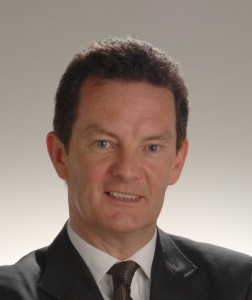 What is your career and what do you do? 
Owner of John Mc Colgan Financil Services Ltd. I advise my personal and corporate clients on the various financial products including Life Assurance, Pension Planning, Invetsments, Income Protection, BES Schemes etc.
 
Tell us about your first job and how much were you paid?
My first job was in Charlie Hegarty's Grocery Shop on Main Street, Buncrana during the school holidays. It mainly involved stacking shelves and doing deliverys on a bike. The pay was £8 per week.
 
What was your first success in business? 
Probably getting through my first month as a Self Employed person having made decent earnings.
 
Name the one local or international business person you look up to?
I'm sure 'look up to' is the wrong term but from a pure business point of view Michael O Leary has been very successful against major opposition from the Irish government and other vested interests. Love him or hate but  him he has revolutionised air travel and made it more affordable for all. On a local level I admire the Mc Carter Family from Buncrana  for all the employment they created for many years in Inishowen.
What has been your biggest mistake in business? 
As far as I can tell I havn't made any major mistakes that I'm aware of. Obviously over the past 20 years I have made lots of errors of judgement but I'm still here so none were fatal….as yet !!
What is the most valuable piece of advice you have ever been given?  
"If you dont like something, change it….and if you can't change it…change how you look at it ".  In other words try to be a positive as possible in all situations.
What advice would you give to someone starting out in business today?
Make a written Business Plan itemising in details where and why you are going to get customers, how much income the customers will  generate and precise details of how much it will cost to get these customers. Its important to research the market to ensure as best you can that people will be willing to pay for what you are offering and that you can make a profit for supplying it. Then go for it !!
What one item would you take with you to a desert island and why?
My iPhone. Its a great companion. It has email, internet access, music, radio stations, video, football, lots of aps, and sometimes you make the odd phonecall.
What item can you not do without? 
My glasses……come to think of it my iPhone would be useless without them.   
What item would you prefer to do without?
Various mortgages, bank loans etc.
What do you do in your spare time (if you have any)?
Play indoor football, go to gym, walking around beauty spots of Buncrana, read books, taking my son Patrick to football training (and matches, guitar lessons,swimming, GAA etc),and if any time left maybe the odd pint of Guinness.
When will you retire? 
I'm far too young to be thinking of retirement at the moment, but it is very important that everyone plan ahead and not be depending on the Government to look after us in our old age.
What's your tip to surviving the recession? 
Just to be positive and keep working as best we can. There is too much negativity in the media which is feeding into the minds and draining the confidence of people and making them feel worse. I know its a cliche but it's true…no matter how bad you think things are, there is always someone worse off. Stay positive and things will at least feel better.
What one thing would you do if you were Finance Minister to help business?  
As a good start I think if the Government in general could eradicate the criminal amount of wastage in all of it's Departments it would help everyone. There are well documented cases of wastage in HSE, FAS, inflated salaries for Chief Executives in Civil and Public Services, voting machines, Social Welfare fraud, quangos costing fortunes for little obvious benefits, senators expenses…the list goes on and on. The money to run our beloved country has to come from somewhere and I dont mind at all paying my share, but the I would feel much happier if I knew my taxes were being used in a more positive manner than mentioned above.
Ends