DONEGAL may be feeling the horror of the recession but one community is reaping the benefits – of a horror movie!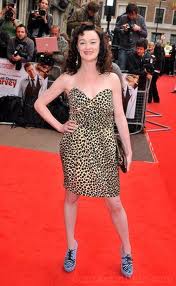 The Inishowen Peninsula has been given a welcome boost after the arrival of cast and crew to film the comedy horror Grabbers.
Dozens of crew arrived across Inishowen a couple of weeks ago and many hotels and coffee shops are feeling the spin-off.
A number of businesses including the Carlton Redcastle Hotel say that many of their rooms are block-booked at a normally quiet time of the year.
The film stars Richard Coyle ( Coupling ), Ruth Bradley ( The Clinic) , Russell Tovey ( Being Human ) and Bronagh Gallagher ( The Commitments ).
It's a comedy horror about a bunch of squid-like creatures who take over a small town.
The only way people can escape them is to get drunk, which they all end up doing.
Of course that would be absolutely nothing to do with the fact that many bars across Inishowen are also reporting an upturn in trade since the arrival of cast and crew for the film.
Another local business success story to benefit from the arrival of the film-makers is Caffe Banba which is owned by Malin Head man Dominic McDermott whose mobile coffee shop has been working around the clock.
Ends