THREE students from a Letterkenny school have been suspended after an arranged fight during their lunch-break.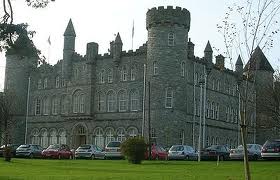 The students from St.Eunan's College were disciplined by school principal Chris Darby who said he will not stand for such behaviour.
 It is believed the fight was captured on video and camera phones and was uploaded onto various websites.
One of the students involved in the bust-up had to be treated in hospital for concussion.
Mr.Darby, who rushed to the scene of the fight behind Boots chemist on the town's Main Street, said he cannot risk such behaviour getting out of control.
"I have spoken to the students involved, I have spoken  to the parents involved and they are out of the school…
"They have let the school down very badly, they have let themselves down very badly. This reflects very badly on themselves. And the school therefore it is not the sort of behaviour I would condone.
"Nobody would condone that sort of behaviour, I want to send very clear message to students, if you decide you are going to sort out your differences in public it , will be dealt with very severely,
"There is a safety issue here as well here. Students should be able to go downtown, they  should be able to chat after lunch, go about their business.
"I would be terrified somebody seriously hurt . In this case a student was hurt, he ended up in hospital with concussion," he said.
According to Mr.Darby the students are appealing their suspensions.
Ends