FIANNA FAIL face the prospect of being completely wiped out in Donegal North East after Colr Charlie McConalogue was endorsed as their unofficial Inishowen candidate for the general election.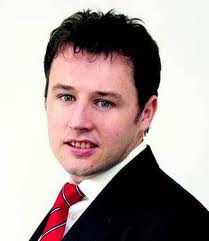 More than 300 vocal supporters last night backed the young politician at an unofficial selection convention not rubber-stamped by party headquarters in Dublin.
Senator Cecelia Keaveney did not turn up at the meeting as she said it was not recognised by the Fianna Fail hierarchy.
The official Fianna Fail selection convention for Donegal NE will take place in Letterkenny on Sunday but it is still unclear how many candidates will be allowed to run.
Sitting TD Niall Blaney is now coming under increasing pressure to invite Colr McConalogue on board but many feel this will split the already weakened FF vote.
The Fianna Fail Party will decide late today how many candidates they favour going forward from Sunday's convention.
If they choose to go with just one in Niall Blaney then Colr McConalogue may be left with no option but to run as an Independent candidate.
The Carndonagh-based county councillor last night refused to say what he plans to do if he does not get the official backing of the party for Sunday's convention.
However a source close to Fianna Fail in Inishowen has defied to back McConalogue all the way in a bid to get a voice for local supporters in Inishowen.
"The bottom line is that we need a voice for Fianna Fail in Inishowen and we simply don't have one at the moment.
"Cecelia Keaveney's days are over and that has been shown by the fact that the party locally have opted to put forward a new candidate in Charlie McConalogue.
"If he is not put forward as a candidate for Sunday's convention and allowed to run, then the consequences are obvious for all to see," said the source.
Ends