THE family of a Gortahork woman who died after her head became trapped in a cot side in her hospital bed are pressing with plans to sue the HSE.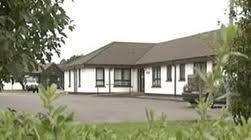 Sile Coyle, 85, of Ardsmore died on her first night at Falcarragh Community Nursing Unit in August 2008.
An inquest into Mrs Coyle's death yesterday found she died from asphyxiation after her head became trapped between a cot side at the head of the bed she was sleeping in.
The six person jury at Mrs Coyle's inquest made a number of recommendations when returning a cause of death after the day-long hearing at Letterkenny Coroner's Court.
As well as recommending better training for nursing staff in the use of cots, they also said all cots must carry warning stickers.
The family of the late Mrs Coyle refused to comment after yesterday's inquest.
However a legal source close to the family confirmed they will be pressing ahead with a full civil action against the HSE.
Mrs Coyle, who family said was in good health, had gone into Falcarragh Hospital for a rest for a number of days.
However her respite resulted in her death after she was choked to death.
Nurse Carmel O'Rourke, who had worked at the hospital since 1999, told Letterkenny Coroner's Court today that on August 14th, 2008, herself and another nurse were looking after 25 patients.
Another patient had died at 3.10am but nurse O'Rourke said that they continued to check on all patients.
The last time she checked on Sile Coyle was between 6.30am and 6.45am and that she seemed well and was lying on her back with two pillows on either side of her.
However when she went back in to check on Mrs Coyle at around 7.40am she noticed her head was stuck between the cot side and the bed's head.
She tried to lift her up but could not and called for help from colleague Mary Boyle.
Nurse Mary Boyle said the first she heard there was anything wrong was when he colleague Carmel O'Rourke called to her at 7.40am.
Nurse Boyle said she went to Mrs Coyle's bed and notice her head was trapped in the cot at the top of the bed and was being held by nurse O'Rourke.
She rushed to get some oxygen as nurse O'Rourke started CPR.
Nurse O'Rourke then rushed to get a defibrillator and nurse Boyle took over CPR.
When the defibrillator was put on Mrs Coyle, a sign came on waning that shocking was not recommended.
Both nurses continued CPR until Dr.Neil Loftus arrived and pronounced Mrs Coyle dead at 8.10am.
The dead woman's son Eugene Coyle said he regularly left his mother to Falcarragh Community Hospital on a Saturday where she attended mass but then collected her around 3pm.
He said this was the first time his mother was left in the hospital for 'a few days'.
He said his mother was absent-minded but was in general good health.
The next morning when he got a phonecall from nurse Carmel O'Rourke to say his mother had died, he was shocked.
Sgt Martin Rochford of Falcarragh Garda Station said he was called to Falcarragh Nursing Home on August 15th, 2008 at 9.20am after a report of a sudden death.
Pathologist Dr.David Barry carried out a full post-mortem on Mrs Coyle's body.
He said he noticed a large bruising measuring 10cms by 2cms on her neck.
Dr.Barry said Mrs Coyle died of acute asphyxia contributed to by bronchial pneumonia and coronary artery narrowing.
"It would have made her give up the ghost earlier than would have been the case" he said.
The Coroner's court heard how no training had been given to nursing staff in Ireland on the use of cot sides before Mrs Coyle's death.
However the Director of Nursing at Falcarragh Community Nursing Unit, Geraldine McClean, revealed a Serious Incident Review Team had been set up to examine
ways of improving safety of cot sides.
All staff in Co Donegal are now trained in the use of cot sides and all cots are fitted with warning stickers while a similar programme is being rolled out across the country.
The jury found that death was due to asphyxiation after Mrs Coyle caught her head in the cot and that underlying health matters may or may not have left the victim in a weakened state that she could not release herself.
"We feel the elderly are deserving of the highest care," said the spokesman.
The jury foreman added that a programme of training for safety around cots should continue and asked that patient and health staff ratio should be examined.
Coroner John Cannon said nobody but the family knows the sudden loss they have felt.
But he said it is reassuring to know her death was not in vain and that guidelines have now been adopted since her death.
 
Ends