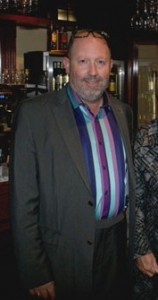 UPDATED: DELUDED INVESTORS STILL standing by crooked businessman Francois de Dietrich are in for a shock today.
For donegaldaily.com can reveal the on-the-run thief has a string of convictions for fraud, as cops throughout the European Union began a hunt for him.
In fact his criminal record is so extensive, one investigator told us: "The man's middle name should be 'Fraudster'."
The shocking revelations will stun those few people in Donegal who still believed the one-time Ballybofey bigwig was a man of his word who would give cash back to them.
One source who has been reliable throughout donegaldaily.com's lengthy investigations in Monsieur de Dietrich told us last night: "Incredibly there are still a few people who believe in this man, such was his power.
"Some people are making excuses for him, saying that even his court case this week didn't mean he was a criminal.
"Unfortunately de Dietrich has a very very long criminal record in his native France for ripping people off. He is a thoroughly dishonest person and the sooner people realise that the better."
The crook behind the get-rich-scheme which has left Donegal investors more than €20 million out of pocket was jailed for 18 months yesterday for contempt – but as he wasn't in court, a European-wide warrant was issued for his arrest.
Judge Deeney told the court: "I'm satisfied beyond reasonable doubt that this was a deliberate contempt on the part of the first defendant (de Dietrich) who is seeking to evade his obligation to obey an order of the court and indeed his statutory obligation to respond to legitimate requests for information from the Financial Services Authority.
"There are very large sums of money involved. The current freezing order of the court exceeds £20 million."
Dozens of people on both sides of the Irish border fear they may have lost millions of pounds in investments they made in liquidated stock through de Dietrich.
Members of the business community, sporting figures and even travellers are thought to have been handed over money.
Court proceedings launched by the FSA led to an injunction banning de Dietrich and his company ETIC Solutions from taking any more deposits.
The regulatory body also obtained an initial order freezing £6.8m in assets linked to the businessman and later increased in £20.2m.
But lawyers for the FSA argued that he had only revealed details of assets held in the UK, Republic of Ireland and Estonia.
* There will be more stories throughout the weekend