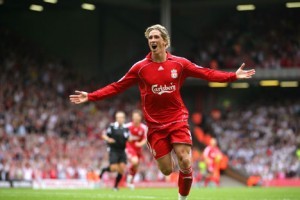 UPDATED: FANS OF LIVERPOOL in the county are in shock this morning as their star striker plots a €50 switch to Premiership rivals Chelsea.
Donegal-based supporters of the Merseysiders are taking to the blog sites today to lash out at the Spaniard for 'betraying' the club.
Chelsea bid €40M for Torres on Thursday – but Kenny Dalglish has insisted that unless the London club come up with €50, Torres will be staying at the club.
It has now emerged that Dalglish also wantes Nicholas Anelka to make a sensational return to Anfield as part of the deal.
The transfer deadline is 11pm tomorrow.
On one blogsite today, a Donegal-based fan writes: "So much for loyalty in the modern game. Chelsea double his wages and he's off to London in no time. It has dented my faith in the game."
Another fan wrote: "If he doesn't want to play for Liverpool, get rid of him now…and take the money to re-build the squad. He's a traitor as far as I'm concerned."
It's not all bad news at Anfield however. The Reds concluded a deal with Ajax for their Uruguay forward Luiz Suarez on Friday.