By Caoimhe Ní Chathail
Another year and another BEO concert! Once again, the Transition Year students of Letterkenny schools Coláiste Ailigh, Loreto Convent and St. Eunan's College are organising a BEO gig in the RCC on Friday the 11th of February.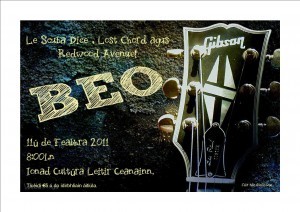 The calibre of talent this time is fantastic as we welcome bands Scuba Dice, Lost Chord and Redwood Avenue to perform.
Having toured and performed in such legendary places as The Bitter End in New York and Arlene's Grocery, Germany and fresh from supporting world-famous band Paramore in the O2, Scuba Dice are sure to bring much excitement to the RCC, as they entertain the crowd with their energetic pop-punk music.
Hailing from the East, this Irish band has achieved great success due to their constant touring and brilliant EP 'The Lost Art of Romance'.
With increased interest from stateside labels and a highly anticipated album release, 2011 is sure to be an excellent year for Scuba Dice, with BEO surely being one of the highlights!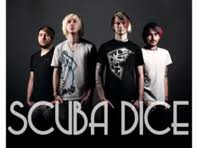 Joe Grace of Scuba Dice said himself, "Looking forward to getting our 2011 gigs off to an amazing start with the crazy people of BEO! Gonna be an awesome night!"
Lost Chord, our second band are based in Galway and are sure to raise the roof with their indie music and stage antics!
Having also released their EP, Lost Chord are making quite an impression in the Irish music scene as they continue to accumulate a large fan base and receive positive reviews.
As always, we look to book a local act for BEO and for this concert it will be the turn of local band Redwood Avenue.
As students of St. Eunan's themselves, it is amazing how successful they are proving to be and they are sure to have a bright future in the music industry.

Pétur of Redwood Avenue said " We're really looking forward to playing along with Scuba Dice and Lost Chord again. This is possibly gonna be our last show before the Leaving Cert so we're planning on making it one to remember. A mad, energetic, fun show can be expected."
Having welcomed different schools from the Milford, Glenties, Ballyshannon, Limavady and Gweedore areas, tickets are selling fast.
However if you wish to purchase a ticket, priced at only €5, do not hesitate to contact the Transition Year students of any of the schools above. Beidh an craic go hiontach!