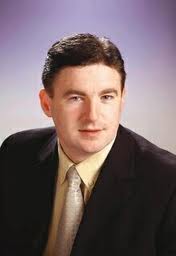 UPDATED: DESSIE LARKIN will have to wait until 8pm to see if Liam Blaney plans to run against him for a place on the Fianna Fail ticket in Donegal North East. 
The well-known Letterkenny man has already approached Niall Blaney's brother, Colr Liam Blaney asking him for the Blaney family support.
But Blaney is still in meetings with his party supporters in Rosnakill and is uncontactable at present.
It is still unclear if he will allow his own name to be put forward.
He is currently having emergency talks with his own supporters – many of whom are terrified that the Blaney name will disappear from the ballot box. 
He will have until 4pm this afternoon to make his decision known.
The political drama has been sparked after sitting TD Niall Blaney revealed he wouldn't be seeking the party nomination at the party's convention at the Mount Errigal Hotel in Letterkenny.
Cllr Charlie McConalogue is the party's only standing candidate at the moment but a second candidate is thought likley.
Close friends and supporters of Blaney had gathered earlier at the Silver Tassie Hotel where a statement was read on his behalf – with Mr Blaney saying he was quitting for 'personal reasons'.
Just days ago it was expected that Mr Blaney, sitting Senator Cecelia Keaveney and Inishowen county councillor Charlie McConalogue would contest the election.
However Senator Keaveney pulled out of the race on Saturday saying she was concentrating on her different roles in Europe.
However Deputy Blaney cited personal reasons for not standing. He would elaborate on those reasons.
Councillor McConalogue was the only name put forward for selection before more than 300 delegates.
MEP Pat The Cope Gallagher said we have to respect Deputy Blaney's decision even though he said he was very disappointed.
"I am disappointed by Niall's decision considering I have just come from two very encouraging conventions earlier today.
"But we have to respect the decision and move forward.
"However I am quite sure we have not seen the end of the Blaneys just yet" he said.
Councillor McConalogue appealed to supporters to come and back him in the coming weeks and to put Ireland back on the road to recovery.
"I am in this for the good of the community and the good of Donegal. We are in it for getting a recovery for our country. Let's put our case to the people of Donegal in next four weeks.
"I know what's going to in this election – it's you people. Let's play our part in the recovery of Donegal and Ireland," he said.
Tanaiste Mary Coughlan said Fianna Fail had to remind people of all the work they had done.
"We are going to take on a hurricane but we would like to reduce that down to a gentle breeze. When we have a challenge we will rise to that challenge.
"Yes it is diffiult to remind people of the work we have done but we have to go back and remind them that we will deliver on all we have promised," she said.
It ends an association between the Blaney family and representing Donegal in Dail Eireann stretching back 80 years, signalling the end of heirloom politics in the constituency.
His grandfather Neal Blaney, a member of the IRA, served in Dail Eireann from 1927 until 1948.
He was succeeded by Niall's uncle Neil who served in Donegal from 1948 until his death in 1995. Niall's father Harry took over the seat in 1997 and Niall won the seat in 2002, holding it in 2007.
Tags: