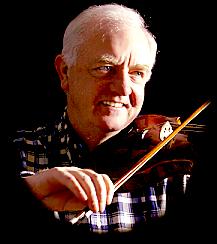 THE MUSIC world is today mourning the death of one of Donegal's most famous fiddlers Patrick Vincent O'Donnell.
Known to the traditional music lovers as simply PV, the Buncrana man died last Friday at Manchester Memorial Hospital in his adopted home of Hartford, Connecticut.
He had last played in a local pub nine days earlier.
One mucisian in Hartford posted on a website: "They (doctors) gave him nine months to live when he was diagnosed with brain cancer, but he ended up living for two years.
"The cancer attacked a part of the brain which is supposed to control music, but he never lost his touch or his tunes. It is three weeks from the last time I played with him."
PV was born in Buncrana. Both his parents were local. His father spent a period in the USA before returning to open a successful garage business and afterwards a shop and ballroom in his native town.
He was a fiddle player who performed at "big nights" in Cilithe houses and the family, because of his father's association with New York, were known locally as "The Broadways".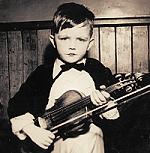 P.V. was introduced to the fiddle at a very early age and performed his first recital on stage at a local concert in Buncrana at the tender age of four (pictured).
P.V.'s parents encouraged him to continue with formal lessons both on fiddle and Irish dancing. He became highly proficient in both and in 1958, while still a schoolboy, he was invited to join "The Little Gaelic Singers" from nearby Derry on an extended tour of America. This was his first taste of the New World -the place where he was to spend the most of his adult life.
After graduating from school, he joined the Northern Ireland Civil Service and was posted as a Revenue Tax Officer in Coleraine. However, his love for music flourished and in the early seventies, he left the day job to concentrate solely on a professional career as a fiddle player and a teacher of traditional music.
P.V. was instrumental and involved in the forming of the first branch of Comhaltas Ceoltóirí Eireann in Buncrana and through that, he became involved and learned a great deal from the legendary Inishowen fiddler, the late Pat Mulhern of Fallask. P.V. travelled weekly to Pat's thatched home deep in the Inishowen hills and learned much of the unique style of this self-taught old man.
P.V. had vivid memories of that time, playing by the open fire on the hearth with the oil lamp hanging on the wall.
In the early seventies, amid the great folk and traditional music revival, he joined a local folk band called "Ten Penny Bit" and toured extensively in the northern part of Ireland. Later he formed "Barley Bree" and was their main fiddle player for many years.
The troubles in Northern Ireland were at their height at this time and travel and procuring work was both difficult and at times hazardous. The band decided to try their luck in Canada, and so in 1977, they bade farewell to Erin.
For the next ten years they traversed the north American continent from coast to coast with great success from their base in Nova Scotia. During that time they released eight successful albums and fronted a weekly TV series called "Barley Bree" which lasted for a record two years.
In 1987, P.V. decided that the grueling travel and hectic schedules they had to endure while on the road would be terminated and so he moved to Connecticut.
It was there that he became immersed in the local traditional music scene and hosted a very successful weekly session at the popular "Arch Street Tavern" in downtown Hartford CT.
He was known as 'The Man With A Thousand Friends'. He is survived by his wife of 20 years Marian.
He is survived by three children from a previous marriage, daughter Lisa and two sons John and Ciaran, two grandchildren Karl and Sarah, two sisters Ave and Gloria, and three brothers John, Carl and Oliver.
He was predeceased by his parents Johnny "Broadway" O'Donnell and Bridie O'Donnell, and his sister Vita O'Donnell Ferguson.
A funeral mass of will be held at St. Bridget Church, 80 Main Street in Manchester, Connecticut at 12 noon today, (January 31, 2011).
A footnote on his website reads: "The aroma of the turf fire on the hearth, the aging thatch on the roof, the open door, the amber glow from the ancient oil lamp are now long gone but the memory lingers on."