DESSIE LARKIN has revealed he has been waiting 11 years for the opportunity to represent Donegal in Dail Eireann.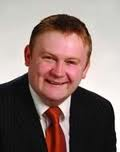 …and today he begins his bid to do so.
The Fianna Fail town and county councillor will get official ratification from party headquarters in Dublin to run alongside Charlie McConalogue in Donegal North East in the coming general election.
Yesterday Cllr Liam Blaney said he was not standing and threw his full weight behind Larkin's bid for a seat in Leinster House.
An excited but cautious Cllr Larkin told donegaldaily.com that he is waiting for the call from his Fianna Fail superiors.
"I have been waiting for this call for 11 years since I took a career break from UNIFI. In that time I have tried to do my best for the people of Donegal.
"I always hoped the call would come but now it is only a possible phonecall away I just cannot wait.
"Now I want to go one step further and represent them at national level. I am not there yet but I am hoping the call will come," he said.
The Letterkenny man, whose late father James was also a highly respected local politician, said he was under no illusions that he faces a difficult battle on the doorsteps of Donegal if chosen.
"If I get the nod then I am fully aware of the battle I face in standing for Fianna Fail. It will not be an easy task by any means.
"But I will be asking people to give a local man a chance. I will do my best for Letterkenny and for Donegal North East. I would like to think people would find it difficult to get a harder-working candidate.
"I am particularly humbled by the support given to me by the Blaney organisation in coming out and supporting me. That means a lot to me.
"Time will tell and I'm hoping that if I get the call I can return people's faith in me," he said.
Ends