The Mary From Dungloe Festival has bounced back!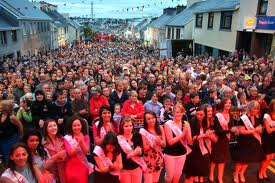 More than 40 people from the famous West Donegal town met last night to discuss the future of the festival after the resignation of the current committee last week.
A trader's committee was set up and the meeting was described as "very positive" after 25 traders had their say on the future of the 43 year event.
It has led to two further meetings to discuss the festival, one of these concentrating on events.
A steering committee is also to be set up to concentrate on ideas and plans for the 10-day event.
Sources close to the meeting described it as one of the most positive meetings in many years.
"Some people might have taken the festival for granted but there was no way we were going to let it die.
"It's going to take a lot of planning and the festival may be different from previous years, but there's no question it will go ahead this year," said the source.
Last night's meeting heard many suggestions and ideas about the running of the event including suggestions that it could be slimmed down from the ten days.
 Several members of the former traders and finance committees attended the meeting.
Tricia Gallagher, who was festival director for the past few years and who announced her resignation last week, was not in attendance.
Ms Gallagher expressed disappointment over various aspects of the festival at last week's meeting and did indicate that she would not be attending any further meetings. 
 It is understood there was some level of criticism at the meeting of what was described as "negativity" in the media following the reporting of the outcome of the annual general meeting and a subsequent radio interview by former director Tricia Gallagher.
Last week's meeting was told that the festival has debts of over €23,800 that includes a fee of €9,000 owed to singer Daniel O'Donnell dating back pre 2008.
Contributions and sponsorship to the 2010 event were down over €8,000 on the previous year. The meeting also heard of unacceptable abuse directed at the organisers and voluntary workers during the course of the festival.
The follow up meetings are scheduled for this Thursday at 6 p.m. in the Rosses Community School to discuss ideas and events, while a traders meeting will be held in Ionad Teampall Cróine on Monday next at 7 p.m.
Ends