STUDENTS and colleagues in a Dublin school left devastated by the death of pregnant Fanad teacher Roisin Connolly have honoured her with a simple floral tribute.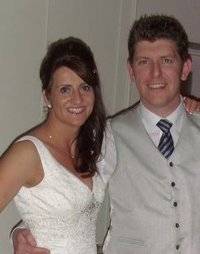 Roisin (39), from Grace Park Road, Dublin, was five months pregnant with her first child when she was killed in a car crash in Carrickmacross on December 27.
She was travelling back after spenidng Christmas in Donegal with her husband Stephen when the crash occurred. They were married in April last year.
Fintan McCutcheon, principal of Balbriggan Educate Together,  said staff have remembered the "exceptional" teacher by placing a single rose and a photograph of her inside the main school door.
Some 100 students and parents have already paid tribute to their late teacher underneath the principal's blog on the school website.
Mr McCutcheon said: "We've marked Roisin's passing with a simple photo and floral tribute inside the school door.
"The teachers, as a tribute to Roisin, have gone about their normal business with due cognisance of the fact that some of the colleagues and teachers are missing her hugely.
"There were over 100 responses to the blog, and a similar number of sympathy cards and mass cards, and memorial tributes from other religions as well. Other religions have expressed their condolences in their own way."
Roisin was studying for an MA in human rights education at the time of her death, and was in her fourth year of teaching at Balbriggan Educate Together National School.
Teachers at Balbriggan Educate Together are now examining the prospect of an annual event in Roisin's memory.
"She co-ordinated the student council and she was very interested in hearing the democratic voice of the students. I think we're going to look at introducing an inter-school student council event this year."
Roisin and her unborn daughter, Catherine, died in hospital shortly after the collision in Carrickmacross, Co Monaghan.
A man has since been charged in relation to the incident, which also killed Paul Carroll (27) and Glenn Curtis (27), both from Meath.
Kevin McArdle (29), of Longfield, Carrickmacross, Co Monaghan, was charged with dangerous driving causing death and driving with excess alcohol.
 Ends