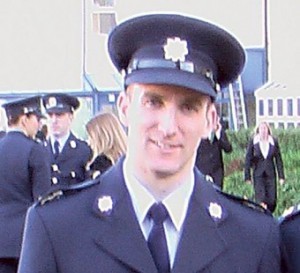 A Garda has revealed how her colleague told her to jump out of the way of a stolen car just seconds before he was mowed down.
Garda Robbie McCallion died from his injuries days after being struck by a stolen car at Tara Court, Letterkenny, on April 7th, 2009.
The driver of the car, Jamie McGrenaghan, 19, appeared in court today charged with the manslaughter of Garda McCallion.
The court heard how at 4.30am on March 26th, Gardai in Letterkenny received a call saying two young males were acting suspiciously around a car at Tara Court.
They arrived at the scene and saw a white Toyota Corrolla car with young man holding a rope in front of it.
There was also red Peugeot 306 behind it with lights on and the engine running.
Garda McCallion, who was originally from Co Mayo, along with colleagues Garda Joanne Doherty and Shane Lavelle approached the men but McGrenaghan reversed the Peugeot car back up the road and began revving the engine.
Garda Lavelle then told Garda McCallion to place the Ford Focus patrol car across the road as there was only one way out of the cul de sac.
McGrenaghan, of Gortnatraw, Kerrykeel then began revving the engine and screeching his tyres before driving towards he Gardai.
Garda Doherty then revealed "It was coming straight towards us and was going to hit my door. Garda McCallion told me to run and I ran to the back of the patrol car."
Garda Doherty told how she then heard a loud bang and saw the Peugeot travel through the air beore coming to a standstill.
Garda Shane Lavelle said he saw McGrenaghan drive the car towards him and estimated it was travelling at 40mph.
He said he saw Garda McCallion tried to jump out of the way of the car and was struck by the bonnet and windscreen of the car.
"I saw him being hit by the windscreen and bonnet of the car and it threw him 10 to 15 feet up into the air and he then disappeared into the dark," revealed Garda Lavelle.
Garda Lavelle then ordered McGrenaghan, who was only 17 at the time, to get out of the car but he refused.
The accused then jumped out of the passenger door and made an attempt to escape by running down the road.
Garda Lavelle gave chase and finally caught up with McGrenagan after asking shouting at him to stop before striking him with his batton.
Garda Doherty had driven the patrol car down to collect McGrenaghan and asked Garda Lavelle where Garda McCallion was?
They soon realised that Garda McCallion had been thrown over a wall and into a garden.
Garda Doherty revealed "I could see there was something lying in the field. Garda McCalllion was lying on his right hand side upagainst fence. The top of fence was sitting on top of his neck. He was unconcscious and his breathing was laboured and there was blood coming from his mouth. I cleared his passage from blood. I kept his head in psoition and tried to talk to him.
"I took off my fleece and tried to put it under his head but a lot of blood coming from his head," she revealed.
The court heard how Garda McCallion was taken to Letterkenny General Hospital but transferred to Dublin's Beaumont Hopsital where he died on April 7th.
Defence barrister Denis Vaughan-Buckley said McGrenaghan was with another man Cathal Dunleavy who had 32 previous convictions for burglary, car theft and other crimes whereas his client had no previous convictions at the time.
He said McGrenaghan has pleaded quilty to dangerous driving causing the death of Garda McCallion and to stealing the car.
The case continues.