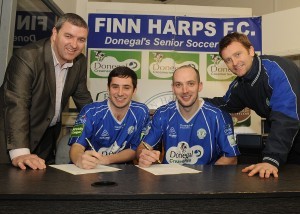 Hot on the heels of Conor O'Grady's signing last weekend, Finn Harps Manager James Gallagher continues to add new blood to his squad ahead of the new season which is now just four weeks away.
Paddy McLaughlin, who played eighteen games for the club during the 2007 Promotion winning season, makes a return to Finn Park, along with his former Coleraine team-mate Gareth Harkin.
 
Thirty two year old Paddy McLaughlin can play in defence or midfield.  He initially signed for Harps during the July Transfer Window in 2007 from Irish League side Institute.  A former Derry City player, he spent eight years with the Candystripes and played in the centre of midfield where he picked up two League Cup and an FAI Cup winners medal.  Left Harps at the end of the 2007 season and signed for Coleraine where he spent the last three years.
 
"Its great to be going back to Finn Park because I really enjoyed playing my part in the Harps side that got promotion a few years back," said McLaughlin about his return.  "The Manager is bringing quality players into the squad and combined with the younger talent that's at the Club and I think we could well surprise a few people this season."
 
Gareth Harkin is the son of former Harps player, Kenny Harkin, who had two spells with the club in the 1980's and 90's.  Like McLaughlin, he is a former Derry City and Coleraine player who has also played with Limavady United in the Irish League.
Like his Dad, Gareth has also played for Fanad United in the Ulster Senior League.  A wide midfielder, he joined Limavady United in January 2007 from Derry City.  Debuted as a sub for the Roesiders in an Irish Cup victory v Carrick Rangers.
His instant impact resulted in two goals for his side from excellent crosses by the youngster.  He  returned to the Candystripes in 2007, and debuted as a late sub v Shamrock Rovers in August of that year.
Signed for Coleraine in July 2008 before linking up with Harps this week.  Gareth was a member of the Irish Colleges Squad which played at the World University Games in Belgrade in 2009 – a squad which also contained Harps players Mark Forker and Oisin McMenamin.
 
"Obviously I'm a Donegal man, so when James Gallagher called and said he was interested in me signing for Harps, naturally I was delighted," said Harkin.
"I enjoyed my time at Coleraine and learned a lot there, but now I'm really looking forward to linking up with the rest of the Harps Squad and getting a good pre-season under my belt."
 
Harps boss James Gallagher was delighted to get the two players.
"This year the First Division looks like been a very competitive affair again, so it was important that we have added players of Paddy and Gareth's calibre to the squad.  I played in the 2007 promotion winning side alongside Paddy so I know his qualities very well.
"He will give us that extra bit of experience in the dressing room which never hurts.  Everyone in football regards Gareth as one of the outstanding prospects to come out of the County in recent years so it will be up to both us and Gareth himself to make sure he realises his full potential.  I think he could prove to be an excellant signing for us."
 
Harps Chairman Joey O Leary said: "I would like to welcome both Paddy and Gareth on board for the forthcoming League campaign.  I think both signings will prove to be very popular with supporters and I think people are seeing we are making every effort possible to deliver a competitive side.
"James has again had to work of a modest budget but I feel he has made some very astute signings.  Hopefully our support base and the County at large will now row in behind their club and give us their backing."
 
Both players will be hoping to make their first appearances for the club in Sunday's JJ Reid Motors Trophy game against Derry City at Finn Park (kick-off 3.00pm).
 
Pic: Gareth Harkin and Paddy McLaughlin sign for Finn Harps, watched by Chairman Joey O'Leary and Manager James Gallagher.  Pic: Gerard McHugh.