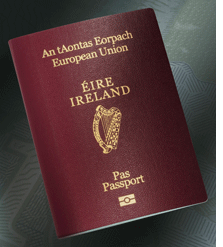 A RUSSIAN DIPLOMAT has been expelled from Dublin as part of a Garda investigation into the identify theft of Donegal man Eunan Doherty.
Mr Doherty, a Cardonagh firefighter, has his details cloned into a fake passport by a Russian spy ring unmasked in the United States.
One spy was to collect the fake passport in Rome.
"The activities of Russian ntelligence services in connection with the forgery of Irish passports and the effective theft of the identity of six Irish citizens are completely unacceptable," said the Department of Foreign Affairs.
The department's secretary general told the Russian ambassador in Dublin that the accreditation of one of his staff had been terminated and the diplomat has been asked to leave Ireland by a specified date.
"The government, by today's action, has once again made clear that it will not tolerate the fabrication and use of forged Irish passports by agents of a foreign state," it said.
"It is hoped that it will be possible to move on from this disturbing incident and to develop further the relationship between Ireland and the Russian Federation."
Our passports are highly prized by foreign secret agents and terror groups because our neutral status means that we are welcomed in most countries.
Mr Doherty has never spoken about the incident.