Hairdresser Patrick Gildea is one of Donegal's most colourful businessmen and now he gives a few pointers as to why he's a cut above the rest.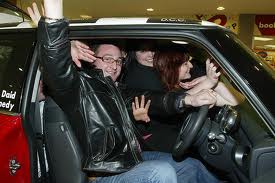 What is your career and what do you do?
I am a hairdresser and involved in a business that is to the forefront of fashion.
Tell us about your first job and how much were you paid?
My first job at eleven years of age was a paper boy and earned £2.00 a week. I was a milk boy deliverer to doors. I then worked in the building sites as a labourer, then to trainee hairdresser were I thumbed from the 'big city' of Drumkeen to Killybegs everyday for €24.00 a week.
What was your first success in business?
My first success was to open my first salon in Letterkenny at 18 years of age.
Name the one local or international business person you look up to?
The people I most admire in business is an uncle Brendan Gildea who was a developer who gave me great advice and made sure I stayed grounded and it has to be Marco Pierre the chef for his dynamic approach in self belief and the many small business people that you never hear about that are so important to every community.
What has been your biggest mistake in business?
I have never had any major mistakes in business but plenty of small ones that you learn from and continue to do so. These are an education in there own right and will continue to be. By recognizing them you address and move on stronger.
What is the most valuable piece of advice you have ever been given?
Education. Education. Education.
What advice would you give to someone starting out in business today?
To ask as many questions of other business people. To set yourself monthly achievements and never think you can sit back. And don't become over arrogant because you're self employed. Be prepared to commit yourself as it is hard work but very rewarding in many ways and don't be scared to give yourself a pat on the back! Quietly though!!!!
What one item would you take with you to a desert island and why?
My wife and family and a scissors and comb.
What item would you prefer to do without?
The Taxman!
What do you do in your spare time (if you have any)?
In my spare time I love traditional music and I teach members of the Tirconnail Martyrs flute band.
When will you retire?
I will retire when the man above sends me my P 45.
What's your tip to surviving the recession?
Ah the horrid recession….we have to reinvent ourselves to suit the climate – the 100% commitment we had has to be 300% now. Get up earlier and bed later. And most importantly if the recession is putting you under pressure in business get out!
What one thing would you do if you were Finance Minister to help business?
Firstly get people that know what they're doing , get rid of there Landlord mentality. Run it as a business and get people with business backgrounds. If run efficiently, the stupid money being wasted would be sorted. It would be mind blowing what could be saved!
And get behind the small business sector as this is the proven sector to get us out if this hole!!
Ends