An East Donegal woman said she wanted her father dead when a Judge asked her what should be his punishment for sexually abusing her.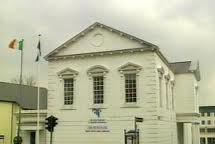 The woman revealed how her father abused her over a two year period starting when she was just ten years old.
The man, who cried openly at Letterkenny Circuit  Court alongside his wife, had never apologised for what he had done to his daughter.
The family learned about the horrific crimes when the girl was just fifteen and she began dating a young boy who later became her husband.
However they agreed to patch up things and tried to remain as a family together.
However the abuse continued to cause heartache for the young girl and came to a head when she was due to be married and did not want he father at the wedding.
Her father faced two counts of sexual assault against his daughter over a two year period between 1992 and 1994.
The young woman revealed how her father would force him to touch her penis and try to masturbate him.
When the girl complained her hand was sore, he would force her to use her other hand.
However she broke down in the witness box and struggled to read all of her witness impcta statement.
Judge John O'Hagan said he understood how difficult it was for her but asked what she wanted to see happen to her father.
She replied that she wanted to see her father dead and said she only wanted to protect her daughter from men like her father.
When asked if her father ever said sorry she replied "saying sorry is not just throwing a fiver or a tenner beside your bed".
Judge O'Hagan said there was no question that the woman was 'emotionally destroyed' but paid tribute to herself and her husband for trying to make the best of their lives.
He called the accused into the witness box and asked him if he had anything o say to his daughter to which the man broke down and sobbed "I'm sorry XXXXXXXXXXX, I'm very sorry."
He said he also understood how her father had been forced to live with his guilt and wil have to for the rest of his life.
But he said he had destroyed the trust a father has with his daughter and he would have to pay for that.
He sentenced the man to one year in prison and suspended the last six months.
Ends