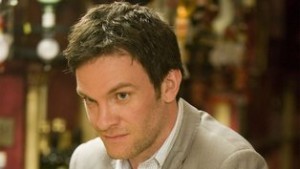 Donegal actor Keith McErlean steps into the cut-throat world of table quizzes when he stars in RTE's latest comedy drama Trivia.
Viewers are getting a double dose of the 35-year-old Cardonagh-man as he is also starring as restaurant worker Shane Harte in the raunchy foodie series Raw.
In Trivia, McErlean plays Adam Lynch, a local charmer who owns the village pub and gets out from behind the bar every Tuesday night to do his bit as a slightly bemused team member in the weekly pub quiz.
The quiz is always, always won by his team captain, a fat, bald and obnoxious know-it-all called Lawrence who happens to be Adam's best mate.
Now based in London, McErlean both roles were totally different and gave him the opportunity to show his different sides as an actor.
He told the RTE Guide: "Adam is very different from Shane Harte in RAW. Shane has a bit of a short fuse. He's probably not the kind of guy you'd want to go for a pint with. I'd rather go for a pint with Adam Lynch."
McErlean first came to our attention when he appeared as Barry in the popular Celtic Tiger soap Bachelor's Walk ten years ago.
"Absolutely. Nobody was familiar with me before Bachelors Walk. When you have that much exposure in one go, you can very easily be pigeonholed.
"There was a few years of being offered the idiot in things and it did slow work down so it's nice to get back on the telly and play something straight," he told the RTE Guide.
McErlean has come a long way since he was a 17-year-old extra in Mel Gibson's Braveheart when he first caught the acting bug.
Trivia is on RTÉ One on Thursday nights at 10:15pm.