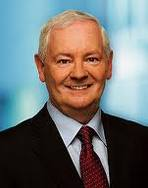 VETERAN Gaoth Dobhair politician Dinny McGinley is being tipped to be the next Ceann Comhairle in the Dail – if Fine Gael get into power.
The well known former schoolteacher, 65, has been a TD for almost 30 years since he first entered Leinster House in 1982.
Although he has never held a Ministerial post, McGinley has served on a number of front bench positions for Fine Gael.
A source close to the Fine Gael party last night revealed how McGinley was now favourite to get the role when the new Dail begins in March.
He is currently the party's spokesman on Community, Rural and Gaelthact Affairs.
He did announce his retirement from polticis in June 2006 but changed his mind and stayed on and won a seat again in February 2007.
"There's no question that Dinny is top of the list. He has been a loyal TD to Fine Gael over the years and has served the people of Donegal very well during that time.
"At 65 he has the experience and the knowledge of Dail Eireann to handle the Ceann Comhairle position," said the source.
Ends