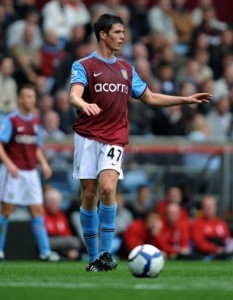 ASTON VILLA star Ciaran Clark has spoken of his Donegal family's immense pride – after he chose to play international soccer for Ireland.
The Harrow-born player captained England at underage level, but has revealed how his decision to play at senior level for the Republic has gone down very well with the relatives.
"I think they love the decision I have made and I'm sure they would have loved me to play for Ireland when I was a lot younger, but the time has come and I've made my decision, and I think they're so proud of my decision in the end," he said.
Ciaran is the grandson of Vera Clark, originally from Moyle Hill in Milford, but now living in Manorcunningham.
Ciaran's father Michael, although born in Edinburgh when his family were working in Scotland for a time, is a former student of Drummond National School in Ballyare and played for Milford United under Fr Michael Herrity as a teenager.
He is expected to start at left back when Ireland play Wales in a friendly this Tuesday and relatives from throughout Donegal will be travelling to the Aviva stadium – along with hundreds from Leitrim where Clark's mother Peggy is from.
And it was her accent which sparked Irish interest in the Villa player.
Villa captain Richard Dunne noticed her accent after chatting to her after a game at Villa Park.
"He didn't try and pressure me or anything, he just asked me would I be interested in playing for Ireland, and I said I would be more than interested. He knew some of the coaches at Ireland, so he put the word in and since then it's just been moving forward."