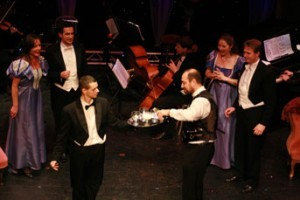 Relive the romance of the Viennese Festive season as A Viennese Strauss Gala introduces the audience to a bygone era of glamorous soirees and Strauss waltzes.
Strauss Gala Productions present this brand new production of their ever popular show, returning to An Grianán Theatre on Wednesday 16 February, five years after its last visit to An Grianán. A Viennese Strauss Gala combines music, song and dance to recreates the nostalgia of the grand ballrooms of 19th century Vienna.
It features highlights from some of the great operettas of Strauss, Kalman and Lehar including Die Fledermaus and The Merry Widow, and is performed by soloists from leading opera companies, such as D'Oyly Carte, the Scottish Opera and the Welsh National Opera, ably accompanied by the European Orchestral Ensemble.
This beautifully crafted production is cleverly choreographed, tastefully costumed and magnificently sung and gives the audience an authentic feel of a festive Viennese evening. It will appeal to the romantic as much as the music aficionado and has already proved very popular all over the UK and Ireland.
Ticket are €20 (or buy four for €60) and are available at An Grianán Theatre now. Call 0749120777 or CLICK HERE www.angrianan.com for more.