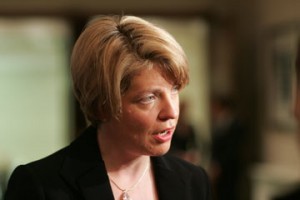 TANAISTE Mary Coughlan is under fire today after claims she failed to get €40M in European funding to re-train people who have lost jobs in the construction industry.
Ms Coughlan submitted an application last June to the EU Globalisation Adjustment Fund, with the money wanted to upskull 9,000 workers.
But eight months on, the money has still not been awarded – prompting claims from Fine Gael enterprise spokesman that Ms Coughlan had made 'one last bungle' before leaving government.
Kieran O'Donnell said he had been told by the Department of Education that no proper application had been made – only an 'indicative' application had been submitted, in other words an indication that a proper request would follow. This has not happened.
"This is about every minister directing his or her officials to make every resource available to progress this application so this money is drawn down to prevent people leaving the country," said the Fine Gael man.
"Yet there is no sense of urgency to access this funding to reskill 9,000 people and prevent them leaving the country."
It could now be October before any funding is approved if a proper application is made now.
The Department of Education would only confirm that a 'provisional' application had been made but would not make any further comment.
Mr O'Donnell said however: "Two thirds of the timeframe allowable to draw down this funding will be lost when it could be helping unemployed workers right now."