BREAKING NEWS: A Raphoe building contractor who 'faked' a set of invoice books and failed to make VAT returns of more than €110,000 has been jailed for nine months.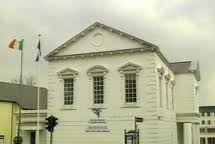 Alan James Hynes claimed he panicked and had made a false set of books for a four month period between November 2005 and February 2006 during which his company took in €480,000.
Hynes of AJH Construction was investigated by the Revenue Commissioners office on March 9th, 2006 as part of a general audit.
Revenue investigator Ms Shiela Hanley told Letterkenny District Court this afternoon that on the face of it the books of AJH Construction were in order.
However further investigation by the Revenue found large sums of money had been paid by large building contractors to the accused which had not been disclosed.
When investigators challenged Hynes, of Sheercloon, Raphoe, about the non-payment of the VAT returns, he admitted he had not paid the returns and that he was operating a second set of 'false' books.
The court heard how Hynes had two bank accounts with both ACC and Bank of Ireland and had tried to hide income from his business.
Investigators from the Revenue Commissioner's office examined Mr.Hynes' accounts and sales books and found that VAT returns of €43,800 had not been paid on income between November and December of 2005.
A further €65,673 in VAT returns on estimated income had not been paid for the months of January and February, 2006.
During the time he had paid a total of €14,800 in VAT returns.
Mr Hynes said he completely accepted what he had done was wrong and that he panicked and wrote up the false invoice books over a two day period.
"I know what I did was wrong but I panicked. I am not denying that I did not pay VAT," he said.
Father-of-three Hynes added that his company went into liquidation as a result of the investigation by the Revenue Commissioner's office and that he had to let eight workers go.
Judge Seamus Hughes said his actions had cost up to eight people and their families their livelihoods.
"I did find five of those people other jobs with other contractors," replied Hynes.
The court heard that Hynes had since had a serious motorbike accident and was confined to a wheelchair for a number of months and was now unable to work.
Judge Hughes asked Hynes what he had done with all the money which he had failed to declare.
He said he had pumped the majority of the money back into his business buying trailers, scaffolding and other equipment.
"I don't have invoices for what I spent the money on because I lost them when my office was being renovated," said Hynes.
Judge Hughes said this was fraud on a "massive, massive scale" and wanted to send out a message to dissuade other people from a similar offence.
"I have no sympathy for him going out of business and if he had not he could have gone on to defraud the public out of a lot more money," he said
Judge Hughes also fined Hynes €750 for failing to lodge an income tax return for 2005 and a further €750 for failing to lodge a VAT return for 2005.
He also directed Hynes to file a tax return for the period.
Ends