UPDATED: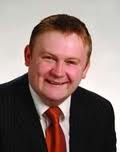 FIANNA FAIL may still regret their decision not to put Cllr Dessie Larkin on their ticket for the General Election, as donegaldaily reported last week.
This website has also received a number of emails from supporters urging Mr Larkin to stand.
We understand he is considering this support – and is torn between quitting Fianna Fail and that firm support from people who want him to go Independent.
A furious Cllr Lakrin said told us last week that it is too early at that stage to consider his future with the party.
But the hard-working local politican said Fianna Fail have now turned their backs on 20,000 voters from Manorcunningham to Fanad Head who are without a candidate.
And he went on to accuse FF party headquarters in Dublin of not knowing what the people of Donegal want.
A source close to Cllr Larkin said he was being urged to perhaps stand as an Independent with an offer of funding for his campaign coming from a prominent local businessman.
The source said "Dessie is hurt. Everybody knows that. He has been so loyal to Fianna Fail but he has got nothing in return.
"He deserved a chance and would have stood a very good chance of being elected. He would have got a very good core vote in Letterkenny alone.
"Now there is talk of him standing as an Independent and a number of key people are backing him.
"He will have to make a decision soon but Fianna Fail could well regret snubbing Dessie," said the source. 
Larkin is said to be very annoyed that Fianna Fail bigwigs went back to outgoing TD Dr James McDaid and asked him to stand again.
Members of the party's national executive sounded out the Letterkenny GP about a possible return to national politics.
But the former Minister turned down the offer insisting he wanted to concentrate on his medical career. 
The soundings came just hours before the party informed Colr Dessie Larkin he would not be running as one of their candidates on February 25th.
Inishowen councillor Charlie McConalogue will now be the party's only candidate to contest the election in Donegal North East at the end of the month.
Cllr Larkin put his name forward for selection when Niall Blaney dramatically pulled out of the party convention last Sunday evening at the Mount Errigal Hotel.
Deputy Blaney cited personal reasons for not standing in a note he sent to supporters who gathered at the Silver Tassie Hotel an hour before the party's convention.
Hours after the convention, Colr Larkin revealed he had contacted Niall Blaney's brother Liam asking him for his support to seek a nomination to stand.
Cllr Ciaran Brogan, tipped by many to stand, revealed he would not be contesting the election despite the Blaney withdrawal.
Cllr Liam Blaney reveale dopn Monday afternoon that he would not be standing and gave his full support to Colr Larkin.
Cllr Larkin was due to be ratified by Fianna Fail headquarters on Tuesday but that announcement never came leaving some doubt.
The announcement was again expected to be made this morning but that also never emerged.
Donegaldaily.com understands that some supporters of Cllr Charlie McConalogue had voiced their opinion that he should stand alone arguing a two candidate strategy would split the Fianna Fail vote.
Many feel the Fianna Fail strategy is a high risk one as many in Letterkenny would have given Larkin a vote regardless of his party.
Their only candidate Charlie McConalogue must now ensure he maximises his vote in Inishowen as his direct rival Jimmy Harte will now be seen as the only Letterkenny candidate.
Ends