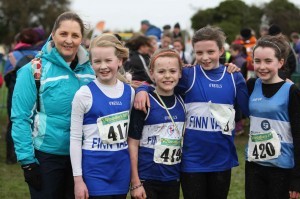 Masters athletics has been a successful feature of Donegal athletics in the last decade and once again the lads rallied the venue on this occassion ALSAA, Dublin.
A long day of cross country ,mucky conditions didnt deter the County team as they saw off the challenge of Dublin171 pts and Wexford 203 to a 145 for the Valley ,Inishowen, Cranford and Letterkenny combination scoring  Pauric Mc Kinney 2,Joe Mc Kinney the Malin man 12,the ever present Gweedore warrior Dominic Bonner 17 also collecting 3rd in his category,Pat Hegarty from Ballyare 32,P J Boyce from Cranford 40th and Ballybofey man Kieran Carlin closing the team on 42nd .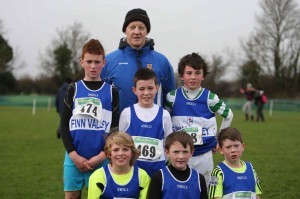 The Finn Valley o-50 squad of Bonner ,Hegarty team leader Mark Connolly 74, and Pat Mc Crudden 157 supported by Patsy Doherty finished in silver 280 pts to Rathfarnhams 235 . Also in there battling through it was Michael Penrose .
The Finn Valley under 11 girls excelled and in effect justified the confidence club coaches have in them a talented group winning with Nikita Mc Devitt 2,truly a really positive performance ,Emer O Neill 5, the Buncrana girl has that ability undoubtadly,Zoe Kelly 11 , from Killygordon,and Castledergs Aoife Mc Grath 14 a big improvement.
Also on board Lauren Mc Daid ,Niamh Sweeney and Sinead Browne . County and club team winning . Finn Valley 32, Mullingar 79 with the county group pushing KIldare back as they lifted the gold .
The under 11 boys medalled a clear indication that there is strength in depth in this age category led out by Shane Mc Monagle 19, Jordan Gallagher 27 supported by Dylan Crossan,Castlefins Reece Gallagher and Alex Mc Geehin . Scoring KIlmurray 47,St Marys 110 ,Finn Valley 111.
Further success was to follow for the 13 girls led by the extremely talented Castlederg girl India Donoghue 4th while the 15 girls came as close as close as you can to winning St Senans 75 to Valleys 76 led by two girls in top 12 Denise Mc Laughlin and Emir Kelly with Melanie Penrose and team captain Shauna Finn doing their bit, all the supporters were delighted at this particular result.
That under 13 squad in addition to India had Amy Crossan ,Aoibhinn Mc Hugh from Aghyaran and Convoys Laura Kelly in the line up.
No joy for the 13 boys but Adam Anderson showed that with a period of training he could make an impact at this level.
On to the inter co relays solid performance from what was a club team in effect Denver Kelly pushed the pace handed over in the lead good determined efforts by Calvin O Brien and Charles Mc Daid saw AAron Mc Glynn take the baton in 3rd but he drives a hard bargain and didnt settle chasing to put the final result at 2nd . Good days work.
The 14 girls team of Natasha Mc Ardle , Leanne Kelly, Karen Gallagher and Sarah Doherty were always in front as were the 14 boys after Peter Gibbons ran an excellent opening leg and great support from Oisin Gallen, Stefan Crossan and Padraic Patton nailed it . All in all a satisfying return for the countys youngsters.
This Saturday the club host the Ulster senior cross country while a squad heads to Donegal Town Sunday for a winter track meet under 11,13, 15,17 age divisions
Finally a big thank you to parents and supporters who travelled to the Dublin meet Sunday very encouraging and indeed an enjoyable day was had by all .