One of the saddest chapters in Donegal's recent history is to be relived tonight when RTE show a documentary about the tragic case of Adrian and Ciara Dunne.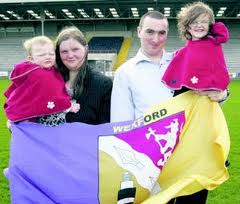 Ciara, 26, who was the daughter of PJ and Marian O'Brien from Burt, married Dunne from Wexford and the couple had two lovely children Leanne, 5 and Shania, 3.
But on April 21st 2007 their lives and the lives of their families were to change forever when Adrian Dunne, 29, murdered Ciara, the couple's two children and then took his own life.
The young Donegal woman and her two daughters were buried in Burt cemetery while Dunne was buried more than 200 miles away in his own community.
Before their deaths, the couple had visited a local undertaker and given strict instructions of funeral details if they were ever to die.
 Now in the first programme of its new series, Scannal, will look at the circumstances surrounding the last weeks of the couple's lives.
It will also ask the many questions of the social services which were asked when the horrific case came to light.
Scannal will be broadcast tonight on RTE 1 at 7.30pm.
Ends