Donegal's postmen could never be accused of skirting around the issue when it comes to delivering the goods.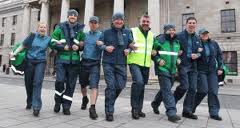 But when it comes to measuring up in the trouser department – that seems to be an altogether different scenario.
donegaldaily.com has learned that almost 70 postmen in Donegal have issues with the new Paul Costello-designed uniform which was rolled out across Ireland in January.
That's how many have been forced to send back the trousers form the new uniform after problems with the fittings.
And now we have also learned that other postmen who were on holidays or sick during the official 'measurement day' still haven't been suited and booted.
The uniforms were made in Derry by well-known and highly respected outfitters Hunter Apparel Solutions.
A spokesman for An Post said the issue was a nationwide one but denied there was any great problem.
"There's 5,000 staff and they all got three pairs of trousers. That's 15,000 pairs of trousers. Now even if 1% of them needed adjustment, that 150 pairs and 1% would be a lot less than you'd expect in an exercise like this," she said.
However the spokesperson refused to reveal exactly how many pairs of trousers have been returned.
However a source at An Post in Letterkenny admitted the strange fittings have been a source of amusement among staff.
"One lad I know if a 30 inch waist but when his trousers arrived, they were more like a 40 inch waist. They were swimming on him!
"He got some stick form the rest of the lads but that's just the way it goes. Most of the trousers have been refitted now and it hasn't stopped the lads from doing their rounds.
"It takes a lot for a Donegal postman not to deliver the goods," he laughed.
As well as the dodgy trousers some postmen also complained about the lack of a jumper during the cold snap.
The new uniform consists of a jacket and a body-warmer but the traditional jumper is not part of the new set-up.
"Some of the lads are complaining they're freezing because there's no jumper. You can take the postman out of Donegal, but you can't take Donegal out of the postman," laughed the An Post source.
Ends