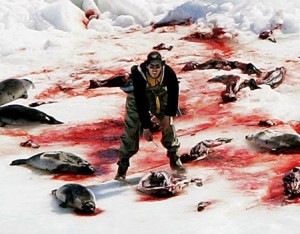 THIS is stark end facing Irish seals – if some Donegal fishermen get their way.
In recent weeks there has been a growing number of calls for a seal cull along the Irish coast, with some fishermen in Killybegs claiming there are now too many of them.
But environmental campaigners have now hit back, saying any change in the law should be opposed.
And one tour operator in Kerry says Donegal should cherish the mammals as they can attract tourists to the county.
Captain Raymond Ross has been running eco cruises and seal-watching trips in Kenmare Bay, Co Kerry, since 1993.
He is furious at the very suggestion that there should be a seal cull.
Raymond told us: "I am against this and people who care about our wildlife will be against this.
"Every time there is a drop in the number of fish being caught by fishermen, the seals get the blame. They always get the blame.
"No-one questions the fishermen themselves or other factors. No-one looks at over-fishing."
The Kerry man, who takes up to 100 tourists at a time on his two-hour trips aboard his Seafari cruiser, revealed that seals are already being killed off along our coasts.
"I have heard of incidents where people go out and shoot seals just for the craic," he revealed.
"The real shame is that they do attract tourists and we should be protecting our seal population. They should be used a lot more," he said.
His words will not be lost on the operators of the Donegal Bay waterbus – where tourists look forward to seeing seals in the bay.
The Irish Seal Sanctuary actively campaigns to save our seal population – last estimated at less than 10,000.
The Co Wexford based organisation says it has studied all government reports and data since 1960 and there is no scientific support for culls.
"The problem and challenge to fisheries scientists, politicians and the fishing community is to face up to the internationally acknowledged problem of over-fishing," said a spokesman.
"The take over of the fishing industry by large business corporations and the displacement and systematic depopulation of previously sustainable fishing communities is the issue.
"This policy is E.U. driven, assisted by our own National and local politicians, and divisions within the ranks of the fishing community itself, where larger more unscrupulous operators are fishing smaller operators out of business."
The ISS also claimed that while quotas were set at €700M, Irish fisheries take more than twice that from the waters off the Irish coasts.
One of those leading the debate for a possible cull is Fine Gael TD Joe McHugh from Donegal.
He claimed a review of legislation protecting seals was required in addition to an investigation into possible breeding controls.
"If we have humane annual deer culls on this island, we should open a debate on having a humane seal cull," he said in an interview.