LETTERKENNY town and county councillor Dessie Larkin will NOT be running as an Independent candidate in the general election.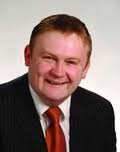 There was increasing speculation yesterday that the popular politician was on the verge of leaving Fianna Fail after he was snubbed by party headquarters in Dublin.
donegaldaily.com understands that a number of people had approached Larkin with a view to standing as an Independent in the Cathedral Town for a seat in Donegal North East.
Although campaign funding was believed to be an issue, we also understand that at least two financial backers had agreed to fund Cllr Larkin's campaign.
Cllr Larkin refused to make any comment when contacted last night on whether he is planning to break away from Fianna Fail and declare as an Independent.
But a perfectly-placed source told us that Cllr Larkin will NOT be putting his name forward as an Independent despite "big pressure" on him to do so.
"A number of people asked to meet with Dessie in a bid to get him to stand as an Independent. They are influential people who feel Letterkenny needs a TD.
"There is also a resentment there that Fianna Fail headquarters simply steam-rolled Charlie McConalogue through and told the grassroots that they had decided on a one candidate policy.
"Dessie Larkin has been very loyal to Fianna Fail and all he has got for that loyalty is a smack in the face. No wonder he is not happy.
"There was a lot pressure on him to cut his ties with Fianna Fail as stand as an Independent. That would have blown any chance Charlie McConalogue had of taking a seat.  
"But Dessie has now decided that he will not run as a candidate in the general election and that has to be respected," said the source.
Cllr Larkin did voice his disappointment earlier this week at not getting the chance to run for Fianna Fail in the election.
He accused Fianna Fail headquarters in Dublin of being out of touch with the people of Donegal and said more than 20,000 people from Manorcunningham to Fanad had now been ignored.
Ends