POPULAR Ballyshannon man Tom Daly's chances of becoming the next President of the GAA increased last night when one of the favourites pulled out of the race.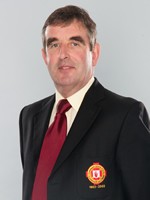 Con Hogan, from Tipperary, said he was pulling out of the race after issuing a statement through the Tipperary County Board.
The next President will be announced at the GAA Congress in Mullingar in April.
Mr.Hogan said he felt other candidates were in a better position to take the post.
"The presence of candidates with a stronger provincial and geographic support base than my own, coupled with the fact that the current President is from Munster would make it very difficult for me to achieve the necessary support and accordingly I have decided not to contest the election," he said.
Well-known GAA delegate and Aodh Ruadh man Daly is now many people's favourite to take the Presidency.
The remaining candidates are Mr Daly, Liam O'Neill of Laois and Seamus Howlin of Wexford.
Ends