A Carrigans carpenter beat up his girlfriend and then burned her house down after she ended their relationship.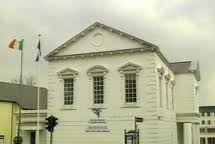 Owen Grant could not accept seeing his ex-partner Michelle Bradley with another man after they broke up after they had dated for eight years.
Ms Bradley had changed the lock on her house which she had been sharing with Ms Bradley.
However on September 11th, 2009, Grant turned up at the house and demanded the keys for her BMW car which he had claimed was his.
He grabbed the keys form her and then pushed her to the ground and kicked her in the side.
He left and later that day was approached by Ms Bradley's brothers Paul and Kieran who called the Gardai.
They Gardai arrived and told the men the matter would be dealt with.
However later that evening, Grant, 44, arrived at Ms Bradley's home and broke into it.
He set fire to four different chairs in the house and burned the luxury home to the ground.
Letterkenny Circuit Court heard Grant of 447 Imlick Villas, Carrigans, Co Donegal heard how he simply could not accept that their relationship had ended.
Grant sought treatment from the Mental Health Services after the attack and spent seven weeks in their care.
However Ms Bradley, 40, from Dunmore, Carrigans said she still lived in fear of Grant and was terrified he would come after her.
She said as well as losing her home, she had also lost all her precious memories including photos in the arson attack carried out by Grant.
"I am still terrified of him. He threatened to kill me and that's why I'm still afraid of him," she said.
Judge John O'Hagan said Grant was not a teenager and he did not accept that he had any great mental health issues.
"He lost it and couldn't cope with the break-up. He was besotted with Ms Bradley – utterly consumed by her and could not get it out of his mind that this had happened.
"He demanded their relationship be restored and it took over his life. But it made her life a total misery by contacting her again and again.
And he added "There's no mental health issue here. He's depressed – so – lots of people are depressed. There is no excuse for what he did."
He added that it was only by luck that Ms Bradley had not been staying in the house at the time of the arson attack.
He took the common assault into account but sentenced Grant to two and half years in prison for the arson attack on Ms Bradley's home.
He also ordered that Grant have no contact ever again with his former girlfriend.
Ends