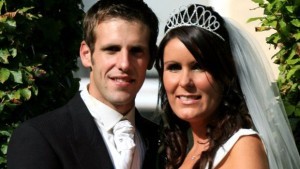 SHE MAY have settled into her life in rural Donegal, but Sarah Walsh is celebrating after scooping the top prize in a draw in her home town!
The Liverpool lass gave up her own house, a nice sports car and a good job with a top travel company to move here and marry her husband Wesley.
But she has just landed Stg£500 in a competition in her (former) local newspaper the Liverpool Echo.
"I'm a milk maid now," laughs the 30-year-old originally from Walton who now lives and works on a dairy farm here in Donegal.
"My life is totally different to how it was. I've had to get used to wearing overalls all the time and my hair smelling of cow poo!
"But I wouldn't have it any other way. The things we do for love!"
Now Sarah and her new husband Wesley McKean are planning how to spend £500 in John Lewis after scooping the prize in the paper's Valentine's Day competition.
"It's wonderful news. We're building our own house on the farm and all the money we have is going into that.
"Now we'll be able to furnish it when we eventually move in," she told the Echo.
The couple met when Wesley was in Liverpool on a stag weekend in 2007.
"I spotted this 6ft 5in Irishman, Wesley, who was in town on a stag weekend. I'm 6ft 2in so it's always nice to meet a bloke who I can actually look up to.
"That said, he had such a broad accent I could barely understand him. There was a lot of 'what?' going on when we tried to talk."
But after a long distance romance, the couple tied the knot last October and Sarah gave up her city life for life in the Donegal countryside.
"It was a bit of a culture shock," she told the Echo.
"The next door neighbour is 20 minutes away and at first I couldn't stand the smell. At home I'm a fake tan and fake eyelash kind of girl but on the farm there are days when I don't bother brushing my hair.
"Wesley taught me how to milk cows and drive a digger. I hated getting smelly and dirty but if it meant spending time with him then it was worth it and his family were so welcoming."
"Now I am so proud of my life here in Ireland.
"Yes, the glamour has gone a bit but I believe everything is for a reason and when you find love and happiness you must grab it with both hands."
So what's her first purchase going to be with that £500?
"It has to be a cow shaped teapot!"