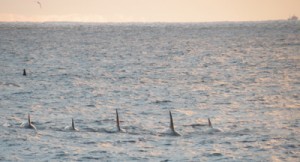 IRISH Naval officers have reported a huge number of killer whales off Tory Island – with fishing vessel skippers putting their numbers at 100.
The Irish Whale and Dolphin Group said it is the largest aggregation of killer whales to date in Irish waters.
As many as a dozen killer whales, or orca, were spotted close to an Irish Naval Service vessel on patrol 30 miles off Tory Island in Co Donegal late last month.
According to Lt Cmdr Paddy Harkin of the LE Niamh, the killer whales were feeding among large shoals of mackerel that also attracted a large number of fishing vessels. 
He added that the whales had apparently followed the mackerel from west of the Hebrides in north west Scotland, according to several fishing skippers – who placed their numbers at over 100.
He told the Irish Whale & Dolphin Group: "On 27th & 28th Jan 2011 we observed a significant number of killer whales approx 30 miles West of Tory Island, approx position 55 degrees 30 minutes North 009 degrees 30 minutes West.
"In one of our photographs upwards of eight killer whales can be observed in a single photo (see attached), an estimate of 10 whales being visible at any one time is on the conservative side. On one occasion at least a dozen killer whales were within 200 metres of the ship."
The killer whales were among large shoals of mackerel, and there were approx 25 fishing vessels in the area mackerel fishing.
Large quantities of mackerel were being caught in the area, one foreign fishing vessel had 4,000 tonnes onboard while several others had over 1,000 tonnes onboard, all fishing vessels were catching in excess of 200 tonnes per day.
Said Lt Cmdr Harkin: "We observed the killer whales over a 30 mile stretch of water following the line of the mackerel shoals and fishing effort."
He told the charity that several of the fishing skippers reported that the killer whales had accompanied the mackerel shoals and fishing vessels from 57 degrees North which is West of the Hebrides in North West Scotland.
The fishing skippers estimated that there were over 100 killer whales in total, and these estimates are consistent with best estimates of the Irish Naval personnel.
Further discussions with Dr Peter Tyndall, BIM reveal that killer whales may have remained with the fleet over the past two weeks of the southward mackerel migration.