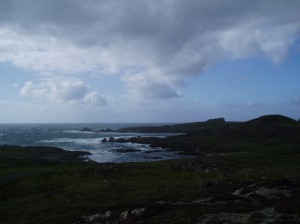 THE COMMUNITY in Malin Head is in mourning after the death of local crab fisherman Hughie McColgan.
The body of the 55-year-old was washed ashore at a beach near Portmór Pier on Wednesday afternoon.
Gardai believe he may have taken ill and fallen overboard from his crabbing vessel 'Leanita' at Portmór Pier.
His body was found by his brother Michael and Malin Head Co-operative's Charlie O'Donnell 200 yards away.
A post mortem was carried out at Letterkenny General Hospital on Thursday.
Father-of-two Mr McColgan was well known and respected in Inishowen. He was originally from Glengad and was an experienced crab fisherman and life-long member of the Malin Head co-operative.
Last November Edward Doherty, 65, and his nephew, Robert McLaughlin, 43, from Ross Head, Glengad, died while fishing for crab and lobster.
"We are all shocked and saddened by Hughie's death and we offer our sincere condolences to his family," said Charlie O'Donnell.
Mr McColgan will be laid to rest in Lagg, Malin, on Saturday, February 12, following 11am Requiem Mass.