The man charged with causing the death of Garda Robbie McCallion when he struck him with his car while trying to escape from a Garda road block has been jailed for seven years.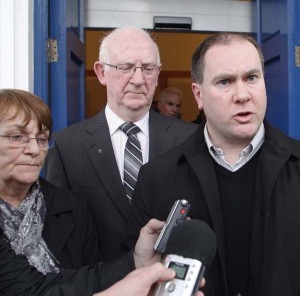 Jamie McGrenaghan, 19, had pleaded guilty to dangerous driving causing the death of Garda McCallion in Letterkenny on March 26th, 2009.
There were emotional scenes in court as Garda McCallion's family praised the Gardai for their support but said they refused to accept any apology from McGrenaghan's family.
The heartbroken relatives sobbed at the back of Letterkenny Circuit Court as the sentencing was handed down.
In a highly-charged courtroom, Judge John O'Hagan said it was a very, very serious case but one in which he must not seek to take revenge on Jamie McGrenaghan.
Having said that he appreciated the fact that Gardai go out onto the streets everyday to protect the lives of the public.
"Robbie McCallion was a member of the Gardai. An Garda Siochana go out to look after us. They are not called guardians of the peace for nothing. They take risks on our behalf," he said.
However in a lengthy summing up, he criticised public representatives for questioning the decision by him advising the jury to ignore the fact that Robert McCallion was a Garda saying he was merely following the instructions of the Minister for Justice.
"Some people have decided to rush to judgement but that is a matter for them and their opinion. I will supply the law and that is what I will do," he said.
He then sentenced McGrenaghan to seven years in jail for dangerous driving causing death and suspended the last year of the sentence.
He further sent him to prison for three years for stealing a motor car and five years for the reckless endangerment of Garda Joanne Doherty and Shane Lavelle whe  he drove at them. He also sentenced him to three years for each of eight burglary and criminal damage charges.
He also disqualified McGrenaghan from driving for life.
All sentences are to run concurrently. 
A statement read after the sentence by the late Garda McCallion's brother-in-law Marty Roughneen (pictured) said the family were very disappointed with the verdict of not guilty in the manslaughter trial last Friday.
"We are very disappointed with the verdict last Friday. Members of An Garda SIochana do their duty day in and day out. Protecting the communities in which they work.
"Their services are vital to the maintenance of law and order and that is what Robert was doing when he was fatally injured.
"Robert was in Tara Court for no other reason than he was carrying out his duty as a Garda and to say the least we are heartbroken at the circumstances in hch he lost his life which should never have happened.
"Gardai, as Robert did, often put themselves in situation where they risk life and limb. It is of vital importance that they are adequately protected  when they are carrying out their duties and in particular that there are appropriate safeguards in place to ensure that the fate that befell Robert does not happen again.
"They protect us, who is going to protect them," he said.
The members of the McCallion family including Robbie's parents Bob and Nancy, brother John, sisters Noirin and Deirdre and girlfriend Marie O'Donnell stood heartbroken as the statement but had already agreed not to say any more. 
They did finally thank all Gardai all over the country for their support.
"Words cannot express our gratitude to the Gardai in Letetrkenny for all their help and assistance throughout our darkest hours.
"You have been amazing and we very much appreciate the efforts you have made on our behalf as well as the work, both you and the State legal team, put into this case," he added.
Last week a jury unanimously decided that McGrenaghan was not guilty of the manslaughter of Garda McCallion.
The verdict, as well as comments from Judge John O'Hagan that the jury should deliberate their verdict in a cold and calculated manner and that they should ignore the fact that Robbie McCallion was a Garda, has led to a lot of public debate.
A Facebook site called Justice for Garda Robbie McCallion which was set up after the not guilty verdict in the manslaughter charge last week already had almost 7,000 followers. 
The overall details of the trial was recounted by Sgt Michael Finan's before today's sentence.
He revealed how McGrenaghan and another man, Cathal Dunleavy, went to Tara Court to steal a car at Tara Court in Letterkenny during the early hours of March 26th, 2009.
The men had been drinking but tests found that McGrenaghan was not over the legal limit despite claiming during Garda interviews that he was drunk during the incident.
Gardai in a patrol car arrived as the pair were stopped while trying to get away out of the cul-de-sac housing estate.
The Gardai decided to block the men's escape route by putting their Ford Focus patrol car across the road.
McGrenaghan reversed his red Peugeot car back up one hundred yards before accelerating at the Gardai and swerving away to the left at the last second.
The then 17 year old claimed at the last minute he spotted a gap between the patrol car and a wall, which was measured later to be almost nine feet wide, which he "went for."
Gardai revealed how they could hear the screeching of tyres as McGrenaghan took off towards them reaching a speed of up to 40mph.
However he struck the patrol car and the stolen white Toyota Corolla car sending Garda McCallion flying 15 feet up into the air and knocking over part of the garden wall and a pillar.
McGrenaghan and Dunleavy were eventually caught and arrested by Garda McCallion's colleagues Shane Lavelle and Joanne Doherty as they tried to run away.
Garda McCallion was thrown into a nearby garden suffering serious head injuries and the emergency services arrived minutes later.
Blankets were placed under his head and he was taken immediately to Letterkenny General Hospital.
He died almost two weeks later on April 7th as a result of a serious head injury at Dublin's Beaumont Hospital.
Barrister for McGrenaghan Denis Buckley Vaughan said his client pleaded guilty at earliest possible time to the dangerous diving causing death and the unlawful taking of a car.
He said he had been with a man who had 45 convictions and that McGrenagan was very much under his powers.