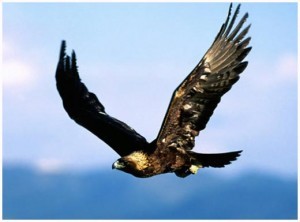 A documentary following the return of wild birds of prey to Irish skies was beaten to a gong in the Irish Film and Television Awards by 'Operation Transformation' last night.
Glenveagh Estate in Donegal and the mountains of Kerry formed the magnificent backdrop for the four-part Wildlife series, The Eagles Return, which followed the trials of three teams and their efforts to reintroduce the White-Tailed Eagle, Golden Eagle & Red Kite to Ireland after an absence of more than 100 years.
From scaling cliffs on the hunt for new chicks, to hiring planes to fly them home and nursing them through the first crucial months, this series followed the triumphs and tragedies of the three reintroduction projects.
The series, made by Crossing the Line Films, has been described as one of the most important Irish wildlife stories in decades.
Viewers watched as Lorcán O'Toole, of the Golden Eagle Trust, released Golden Eagle chicks into Glenveagh National Park and followed their progress.
The documentary-makers had three years of exclusive access to those highly-trained specialists.
The series was nominated in the Factual Programme category. Other nominees included: Ireland AM, Operation Transformation and Reeling in the Years.
The Awards Ceremony, hosted by Irish actor Simon Delaney, was broadcast live on RTÉ One from Dublin's new Convention Centre at 9.30pm last Saturday night.
Gerry Ryan's daughter collected the gong for Operation Transformation.