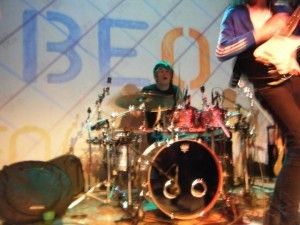 le Síofra Ní Shluaghadháin
Bhí craic agus ceoil den scoth ar siúl san Ionad Cultúrtha in Leitir Ceanainn an Aoine seo cháite nuair a tháinig daltaí ó scoileanna thart ar an c ontae fa choinne an dara   ceol choirm Beo ! den bliain acadúil seo, agus an chéad ceann de 2011.
Bhí seans ag na scoláirí buaileadh leis an dhá príomh bannaí den oíche , Scuba Dice agus Lost Chord agus blas a fháil de caidé a bhí le teacht ag dhá ceardlann ceoil a bhí eagraithe ag na scoileanna sa bhaile.
Mar a bhí ag an chéad oíche , fuaireamar seans freisin buaileadh leis na bannaí níos moille san tráthnóna chun agallamh a dhéanamh.
Níor cuireadh amach don a leaids ó Lost Chord nach raibh plean ná ceisteanna réitithe againn dóibh , agus san deich bomaite nó mar sin a léann , bhí chomhrá ag – inn a bhris gach formáid agallaimh . Bhí cuid mhaith le rá agus faoi sláinte an tionscadail cheoil sa tír , a bhfuil go breá fós , d ' ár leo . Ní fadhb é an t – íoslódáil mí – dleathach dóibhsean , toisc gur scaoileadh EP s ' acu " There Is No Lost Chord " thar an idirlín saor in aisce agus is é an tuairim a bhfuil acu gurbh é sin a bealach a bhfuil rudaí ag gluaiseacht do ceoltóirí go ginearálta.
Bhí dearcadh cosúil le seo ag Scuba Dice , le duine amháin acu a rá gurbh nochtadh mhaith a bhí ann do bhannaí gan ainm mhór , agus seans mhaith dóibh lucht leanúna a bhailiú.
Ach , fuair mé taobh eile den scéal faoin " scene " cheoil ó Joe Grace freisin . Dúirt seisean go bhfuil béim mhór san tionscadal cheoil san tír seo ar an raidio , agus cad is feidir seinm uirthi . Bhí ar cuid d ' ár easpórtáil ceolmhar is fearr imeacht go Meiriceá nó chuig a Eoraip chun ainm a dhéanamh dóibh fhéin sular tugadh aird ar bith dóibh sa bhaile . Ach , d ' ár leis , tá rudaí ag eirí níos fearr , leis a leithead den oíche Dé hAoine feabhsú an scéal.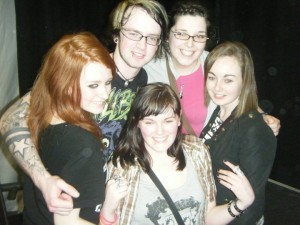 Thíos staighre san halla , bhí an chraic ar doigh , agus iniadh seit bríomhar ón dhá grúpa cuairteoirí agus tacaíocht ó banna áitiúil Redwood Avenue , bhí muid  uilig beagáinín bodhar , le cosa rud beag nimhneach agus gan ghúth.
Agus sin ráite , an féidir moladh níos airde a thabhairt?
xxxxxxxxxxxxxxxxxxxxxxxxxxxxxxxxxxx
By Caoimhe Ní Chathail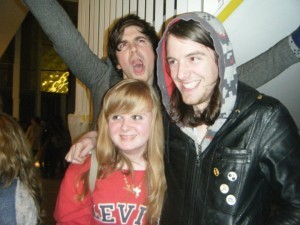 To say BEO was a success last Friday night would be an understatement. After weeks of preparation by the TY students of Coláiste Ailigh, Loreto Convent and St. Eunan's College, the success of their hard work could be seen on the faces of the departing crowd.
The night was simply described as an 'Epic night!' by Convent student Amy Callaghan.
Over two hundred students were fortunate enough to receive workshops from bands Lost Chord and Scuba Dice during the day. These workshops created a sense of familiarity with the band members and left everyone eagerly awaiting the performance that night.
Local band Redwood Avenue certainly succeeded in entertaining the crowd with an energetic performance. Playing crowd favourites and interacting with those present resulted in a fantastic start to an amazing night's entertainment.
Lost Chord built on the energetic atmosphere with an exciting and passionate performance. Fuelled by the crowd's energy, the band left the crowd in a state of excitement, as new-found Lost Chord fans. Lead singer and guitarist David said himself, 'BEO was the best show ever! And I don't usually say that.'
The final performance by Scuba Dice did not fail to impress. Their pop-punk sound and songs, including 'Katie' and 'She Puts U Down' created an electric atmosphere as the crowd sang and danced along.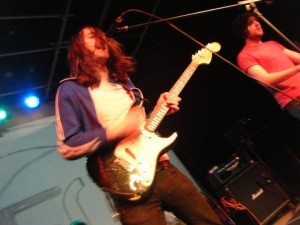 The excitement of the band and the audience was apparent as both passionately joined forces to create a momentous ending to BEO.
Joe Grace of Scuba Dice said: "It was brilliant. It was a great show."
These words were echoed by all as the latest BEO gig came to a close.
With May 5 th as the next BEO's date, BEO is surely going from strength to strength.
We will no doubt chose more outstanding Irish bands and provide an amazing evening's entertainment once again for Donegal's teenagers, who according to Clíona Mc Menamin are 'definitely coming back'.