TEENAGE killer Jamie McGrenaghan tried to blame his missing father for the death of tragic Garda Robbie McCallion.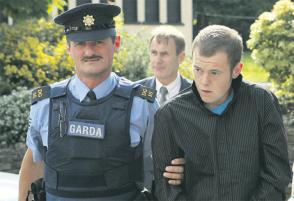 The Kerrykeel tearaway, 19, was jailed for seven years after being found guilty of dangerous driving causing the death of Garda McCallion, 29, in Letterkenny on March 27th, 2009.
McGrenaghan, then just 17, struck Garda McCallion and sent him flying 15 feet into the air with his car causing him horrific head injuries which he died from two weeks later.
Now it has been revealed that McGrenaghan of Gortnathraw, Cashel, has never met his father and his mother doesn't know where he is.
McGrenaghan's barrister Denis Vaughan Buckley claimed the man with him on the night he killed Garda McCallion, Cathal Dunleavy, had since become a father figure to him.
"He has never known his father and this man Cathal Dunleavy, who had 45 previous convictions, became his mentor or his father figure if you like.
"That's what happened. He simply came under the influence of this man and now he is paying for that," he said.
McGrenaghan's mother Margaret said she had tried her best to raise her only child and that she was very sorry to the McCallion family for all that had happened.
"I just want to say how sorry I am to them. I have lost a son now so I know what it feels like. I am very, very sorry for all they have gone through.
"I have tried my best. Jamie was not a bad lad. He looked after his elderly mother while I was at work and he works on the small farm that we have.
"I'm so sorry for all that has happened," she said.
But the brother of slain Garda Robbie said he simply could not accept any apology from the McGrenaghans
"The contempt I hold for that person is indescribable. No apology, sorry, or remorse for what he has done can remedy or mend the utter devastation he has caused.
Our lives were shattered the night the car hit Robert. He was 29 and would have been 30 soon. Instead of planning a party for him, we were laying wreaths on his grave," said John.
Ends