ANGRY Niall Blaney electioneers are venting their outrage at the Fianna Fail party by asking supporters to vote for Labour rival Jimmy Harte.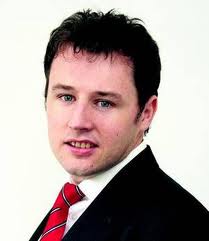 Donegaldaily.com has learned that some Blaney supporters are now using Barack Obama-style politics by personally calling other Blaney supporters asking them to change their vote.
We are aware that one senior Blaney camp member has set up a network of phone campaigners who want to encourage people to "lend their vote" to Labour's Harte.
Political pundits say it is impossible to call the third seat in Donegal North East between Fianna Fail's Charlie McConalogue and Labour's Jimmy Harte.
While McCOnalogue is expected to poll well in the Inishowen region, Harte is expected to perform better in the Letterkenny and surroundings areas.
However dissatisfaction by the Blaney camp at Fianna Fail headquarter's decision to run two candidates early on and then opt for a single-candidate strategy could well prove the difference.
A perfectly-placed source in the Blaney camp said there is a lot of anger that headquarters has snubbed the Blaney name and that Dessie Larkin was also left out in the cold.
And the source admitted that an unofficial decision has been taken to support Jimmy Harte during the current election as a Letterkenny candidate.
"There is a lot of anger that Fianna Fail headquarters simply railroaded their decision through and did not consult with Blaney supporters.
"The general opinion is that we have been left hung out to dry. That's the genuine feeling among grassroots supporters.
"A lot of people have decided that they will now 'lend their support' to Jimmy Harte on this occasion to show Fianna Fail that the Blaney name can not simply be used and then thrown away to one side.
"Some people are going as far as to contact other traditional Blaney voters to encourage them to make a protest vote of sorts and vote for Harte," said the source.
McConalogue is attempting to up the anti in Letterkenny meanwhile and held a meeting of local supporters there last night.
Both candidates are talking up their chances.
Ends